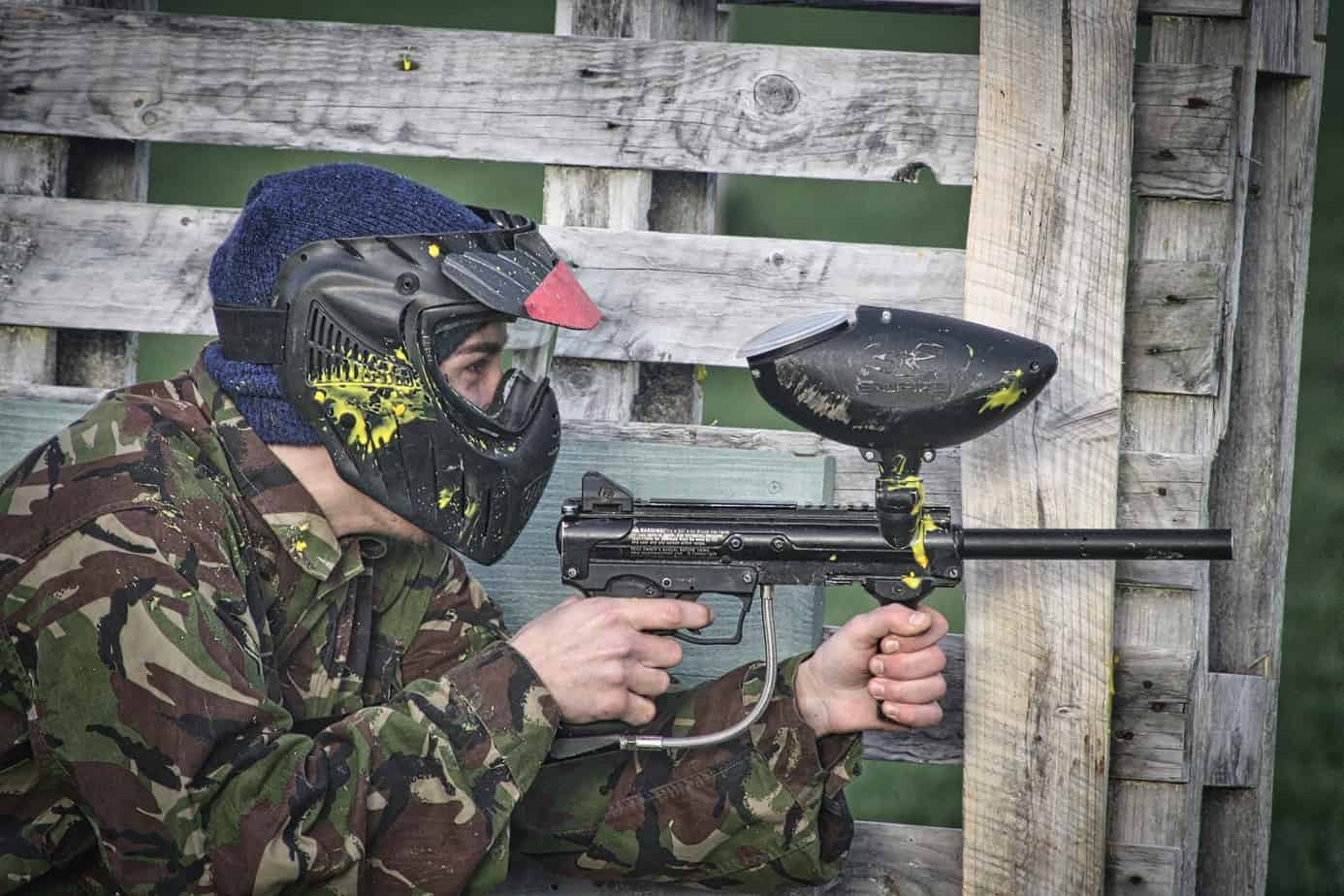 If you're itching to get your hands on a decent paintball gun and jump into the field of battle, then you've come to the right place. While it may be tempting to make an immediate decision and move ahead, it pays to be a bit skeptical at this point.
Because… 
Price does not reflect the quality and trust me, I've drunk from this bitter cup more than once. What you need is a model that delivers perfectly for a beginner, allows you to master the game, and can be adjusted according to your play-style.
Well, you're in luck because, in this Tippmann A5 Review, we'll be looking at just such a product.
Presenting: The
Tippmann A-5 Paintball Gun
Just a heads up, this review is mostly based on my personal experience with the model and how other users felt about it.
The successor to the highly rated and vastly successful Tippmann 98, the A5 is not only better in terms of performance but also user experience. I found it to be a well-designed, sturdy, and high-performing marker.
The durability and reliability of Tippmann markers are beyond doubt, and the same can be said for this model. As for customizability, you'll be surprised by just how much it has to offer, especially for a beginner/intermediate level model.
Since the operation is pneumatic, there is no need for battery-operated components (which need recharging from time to time), and instead, the projectiles are propelled by compressed air. This makes it all the better for longer and more intense paintballing sessions.
As for the performance, are 15 shots per second good enough for you? If yes, then welcome aboard, you and I feel likewise about the A5. I found it perfect for both long-distance shooting and blasting rounds blindly in mid-range combat.
It also works fine in close quarters but I would recommend a pistol in that case (as a sidearm).
Excellent Field Performance
You can brush through any number of Tippmann A5 Reviews, and you will come across sections highlighting the performance excellence of this model. And this model does indeed work pretty well in intense paintball combat situations.
You can use it as a tactical long-range gun, fire a few, controlled shots, or go all guns blazing in mid-range or close-range encounters. Either way, it plays out perfectly. Its ergonomic grip makes it significantly easier to handle, especially amidst prolonged gameplay sessions.
The fire rate is also something to marvel at. You have five different firing modes to choose from, with one option allowing you to shoot as many as 15 pellets within a second. Mind you, that is very impressive for a gun lacking any battery-operated components.
As for the range, moderate estimates give a 150 feet cap (some go beyond this), however, in practice, the effective range is still well over 100 feet. This is because the farther you shoot, the lower the accuracy, however, under 100 feet, the shots are appreciably accurate.
Comfortable grip, decent fire rate, impressive firing range, and high accuracy, all combined to make the Tippmann A5 one of the most well-performing paintball guns available in the market. And this is especially true for beginners.
Sturdiness & Durability
As a beginner, you'll want to fully acquaint yourself with your equipment. This won't be possible if even the slightest impact renders it unusable, forcing you to buy a new one. Don't worry though, Tippmann's got your back.
I found that the model was very sturdy, so much so that it took no damage even when it fell to the ground (by accident, I would never do it for a review's sake.)
Why? It has a metallic frame, far stronger than plastic. And while some may complain about the 1.41 kg weight, stating that lighter models are available in the market, those models can't be compared to this one in terms of durability at least.
Rundown: Features Of Tippmann A5
For a beginner/intermediate level paintball marker, the Tippmann A5 has pretty impressive features:
It is a .68 caliber semi-automatic paintball marker.

The cyclone feed system has been incorporated, which feeds as many as 15 balls to the firing chamber every second.

Five firing modes available to choose from

Safety lock included preventing accidental misfires

You can customize it with ease, add rails, and attach accessories like scopes, lasers, grips, and so on.

The front grip makes the gun much easier to handle.

The marker weighs around 1.41 kg and features an aluminum frame.

The assembly and disassembly are pretty simple and do not require any tools.

The paintballs inside are propelled by either carbon dioxide, nitrogen, or HPA (the latter is most recommended).
My Likes & Dislikes Of The Tippmann A5 Paintball Marker
Being an overall decent model, especially suited to help beginners ace their game, the Tippmann A-5 excels in several areas while slightly lagging in others:
What I Liked About It
The shooting range is pretty outstanding, you can fire rounds for as far as 150 feet.

The shots are impressively accurate, although this accuracy decreases with the range.

The sniper barrel option allows you to further enhance your accuracy for long-distance shots.

There are several fire rates to choose from and players can experiment with each to see which one suits them the best.

The customizability is very simple, no technical information required (just some good old common sense).

The end-cap, provided with the marker, is a shock-absorber, which is very helpful while shooting rapidly.

For accurate shooting, you can attach scopes and laser sights at will (sold separately).

You can't break this paintball gun, even if you're as reckless as that coyote from 'Road Runner'.
What I Don't Fancy
Some players complain that it is a bit heavier (duh, it has a metallic body), although I find it perfectly balanced considering the durability.

You can't customize the barrel, although the built-in variant works fine too.

You can only use Tippmann-made paintballs, I found that out the hard way when my hopper got clogged mid-fight, at close range (you get the picture).
Alternatives
The Tippmann A5 is a decent purchase but I won't blame you if you feel that it doesn't resonate with you. I get it, the heart wants what it wants. Perhaps your heart will settle for one of these:
You may not like the all guns blazing approach I described above or maybe your peers want to shift towards a more realistic combat experience. If that is the case then the TMC magfed marker will help you make every shot count, and approach paintball duels with a whole new level of realism.
2.
Planet Eclipse Etha 2
– Electric Marker
Perhaps you want an electric model that can unload a barrage of paintball pellets on your opponents. The Planet Eclipse Etha 2 model not only delivers an excellent fire rate (which can go as high as 20 rounds per second) but also a host of customization features to up the ante.
3.
First Strike FSC Compact Paintball Pistol
– Paintball Sidearm
This is a decent close-quarters-combat option. In case you were thinking of replacing your previous paintball marker but couldn't bring yourself to do so, then just add this one to the team and keep your previous bad boy too.
General User Experience
Generally, the Tippmann A5 has seen some pretty comments showered upon it by a series of satisfied clients, although these praises were interspersed with some complaints by a few users.
Most notably, people appraised the gun's performance, sturdy construction, fire rate, and most of all, customizability. Some even compared it to models that cost twice as much as this one.
However, others complained that the model doesn't work well with carbon dioxide (use HPA instead, that works fine) and that it is a bit bulkier. Overall, the reviews were very positive.
Frequently Asked Questions
Do you have any confusion or questions? Perhaps this section will cover them up:
1. What else do I need to make this paintball gun work?
For starters, a hopper, some paintballs, and a compressed air tank are needed. You should also pay attention to the attachments available, so you can customize your marker to your liking. And finally, get your hands on some protective gear and attire, and you'll be all set.
2. Can this model shoot in a fully automatic mode?
No, the basic version is semi-automatic. However, you can get the fully automatic version too, featuring an E-grip, it is a bit pricier though.
3. What does semi-automatic mean?
It means that you will have to pull the trigger every time you fire a pellet. Another firing option is the fully automatic mode in which case you'll just have to squeeze and hold the trigger to unleash a continuous barrage of paintball fire.
4. What is the loading mechanism of this model?
It features a cyclone feed system which enhances the firing velocity and power.
5. Will it break if it falls on concrete flooring?
No, the aluminum-based frame is sturdy enough to withstand some serious impacts without taking any serious damage.
---
Before moving on, let's watch how the Tippmann A5 operates internally.
Final Thoughts
This Tippmann A5 Review is based on both, my personal experience with this model and what other users felt about it.
I can say with confidence that the performance and reliability of this sturdily constructed paintball marker will appeal to you just as much as it did to me.
Please note that this marker is suited best for beginner and intermediate players, experienced players can have their hands on something further up their turf.
It is nevertheless an impressive model with a plethora of customizable features, delivering you just the kind of gameplay that you want.
Last Updated on October 28, 2022