When buying paintball guns, accuracy is one of the most important traits you should look for.
Look:
You can't expect to play a good game or win when your arsenal can't keep up. Training and experience help, but they don't completely disregard the importance of having the most accurate paintball guns.
Here's the deal:
In every paintball game or tournament, it is not uncommon to experience nervousness. You could miss your target with just a slight shake of the hand.
But with an accurate paintball gun, that won't happen easily…
If you are on the market for the best accurate paintball guns, we can help you find the ones that are worth buying starting with the Planet Eclipse EMEK 100 which delivers maximum precision for the best bang for your buck.
Most Accurate Paintball Gun (2023)
After a thorough search, here are the paintball guns that truly bring accuracy to the table:
Product
Details

1. Planet Eclipse EMEK 100 Mechanical Paintball Marker

Great For All Levels

Rugged Utilitarian Look
Built To Last
Price: $$$

Check Price

2. Empire Paintball Empire Axe Marker

Useful Features

Shiny Metal Look
Ergonomic
Price: $$$$

Check Price
Check below for some of the best and the most reliable paintball gun, especially when it comes to accuracy.  
1. Planet Eclipse EMEK 100 Mechanical Paintball Marker
The Planet Eclipse EMEK 100 is a real stunner. Its matte black appearance is as rugged as it gets. If you like that utilitarian look on your gun, this should be a great choice. It has a realistic look and feel to it that will give you a more immersive experience on the battlefield.
Right off the bat, this will impress you with its compactness. It's not a very big paintball marker, making this easy to carry wherever you go. Its lightweight properties also prevent hand fatigue so you can play for hours without this gun wearing you out. Boasting only 1.87 lbs. of weight, this is one of the most lightweight paintball guns out there.
But before you think it has compromised on construction, you should also take note that this gun is made from a glass-reinforced nylon outer shell. The bottom part of the gun is made from high-grade aluminum. So, although it is lightweight, it can still withstand anything you subject it to.
As for its ergonomics, it's quite the beginner-friendly paintball gun. It has a natural feel in your hands as if you've handled paintball guns for a long time even if it's your first time holding one. Since it sits between a small and a medium-sized paintball marker, it doesn't feel too clunky and can be maneuvered with ease. The rubber grips are a nice feature so you don't accidentally drop it during crucial moments.
The trigger can be engaged smoothly and doesn't have resistance. It can accommodate 10 bps but performs best at the 7-8bps rate.
One of the things that make this such a great buy is its Gamma Core drivetrain. It delivers reliable and smooth functionality. This kind of drivetrain is also easy to maintain. The flexibility it brings also makes this an ideal choice no matter what your skill level is. You can be a beginner or a professional and still enjoy using this.
But like many of the paintball markers out there, the stock barrel leaves something to be desired. It comes with a 10-inch barrel that has a porting feature. We find it completely unnecessary since it doesn't need the muffling feature for its awesome sound.
You are better off with a 12-inch barrel, which will help you achieve better accuracy. It would produce a more realistic sound as well so if that is what you are going for, you can change to a longer barrel.
It does shoot fast and without any issues. Both sides have a safety indicator, great for both left and right-handed users. This will make it easier to see if you have your trigger activated or not.
It's really not that hard to aim when you use this one. You will find that most of your aims are true and accurate. Aim, shoot and go. It will hit your targets accurately.
It is devoid of extra springs and sears. That means this gun is easier to maintain. High-quality bolts and an efficient drivetrain will ensure that this gun will work for a long time without wearing out fast.
Pros:
Great for all levels, from beginners to professionals
Simple to clean
Built like a tank
Doesn't break balls
Cons:
The stock barrel isn't as great
It is a practical choice for all skill levels. With its rigid construction, you will enjoy more time playing with this paintball gun.
2. Empire Paintball Empire Axe Marker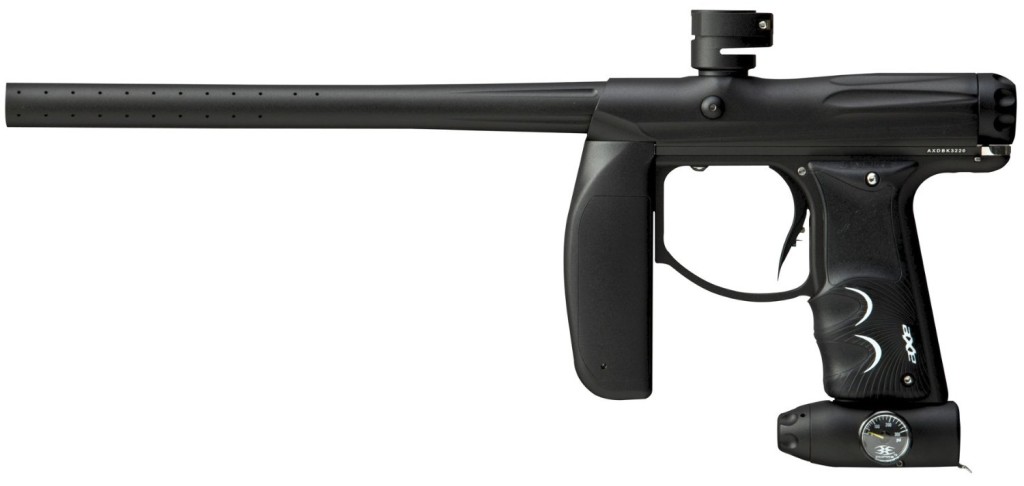 When you go out there and buy a paintball gun, it all seems like a big blur. All your choices sound similar. But we can say that this one from Empire stands out from the rest. Its key trait? Its responsiveness. We've never handled something that shoots accurately and quickly, no delays. Just pure shooting goodness.
That's actually quite surprising considering how this is devoid of nifty features. Everything seems to be basic. There is nothing that will make you go ooh and ahh over. But as basic as it is, the manufacturer did a great job incorporating features that are very useful.
Take for example its firing modes. You can easily switch from a Semi to a PSP Ramping or an NXL or a Millennium Ramping Mode. Whatever firing style you are in the mood for, this gun will surely deliver.
It's a fool-proof gun as well. Beginners won't have a hard time figuring out how to use it. The Empire Relay Regulator has a lever that you can just push on or off to remove the tank in a jiffy. There is no struggle here. The gun just follows your commands with ease.
Beginners won't have a hard time keeping this in great shape as well. Aside from the fact that it has a heavy-duty build this gun also has a push-button bolt removal function. With just a simple push, you can remove bolts to clean this gun with ease.
The bolt included is good and basic but one suggestion you might want to do is to change it to something better. The XSV Boss bolt will transform it from a basic paintball gun to one that even experts will have fun using.
Design-wise, it's really not hard to like it. It has a shinier metal look to it. Equipped with an aluminum barrel, it has an imposing look that will make playing paintball feel realistic. The distribution of weight is good as well. It's not too heavy but not overly light as well. There is a good balance to it so it doesn't feel cheap and flimsy.
The ergonomics is quite good as well. It has a comfortable grip. It won't feel like it's going to slip all the time. It has an extended grip frame as well so you can hold it more comfortably. The New Grip also boosts comfort. You can play for hours with this gun and not worry that it will tire you out.
Just a word to the wise, it's a common-looking gun and because it is more affordable, a lot of people will probably have it. If you are going to use it on tournaments, try customizing it first with stickers so you can easily identify it.
Pros:
Can be customized
Fast shooting, accurate and quick response
Easy adjustments can be made
Cleaning and maintenance are easy
Good ergonomics
Cons:
It's a common gun so if you are playing, make sure you put a sticker so that others will not mistake it for theirs
Might need to replace the bolt with better ones
It's hard not to like this paintball gun. It's one of the most responsive guns out there so although it doesn't have a lot of bells and whistles, you will find yourself relying on it time and time again.
3. Spyder Fenix Electronic Paintball Marker
Feeling a little more competitive? Get this one from Spyder equipped with electric features. In fact, this is the only gun model from Spyder's Twenty Twelve Kingman series.
It is quite an imposing gun. First, it features a long but simple barrel design. It makes up for the simplicity of the barrel with its body. The handle features dual colors. You can choose basic colors if you want to maximize your camouflage capabilities but the bold-colored ones are great if you want to make a statement.
One of the things that set this gun apart from the others is its Air Efficient EKO Valve System. They have yet to be approved for a patent but for now, it's a reliable system that allows you to use a CO2 Tank without using a high pressure. It makes use of what they call synergy engineering. You can shoot as many as 1600 shots with just a 20-oz tank.
Despite this being a powerful gun, it is surprisingly lightweight. It's also more compact. In fact, with 15% less length and 25% less weight, it is one of the most hand-friendly guns out there. It's not easy to lug around, even if you play all day, which you will want to do with this one.
You can use 3 modes when firing. It can be used in semi-auto mode, Ramp PSP mode and Ramp Millennium. It increases in BPS rate as you switch modes.
One of the things you will like about this as well is its trigger design. The "saber" trigger design has a magnetic response that you can adjust in three ways. The high impact polymer trigger frame can resist all sorts of damage so that it doesn't jam up over time.
We also like the battery life. However, you would want to change into NiMH or 9.6 V alkaline batteries if you want this gun to work better. It recommends using 9.6V rechargeable batteries but the lithium ones just won't cut it. It drains the battery faster. If you want to get a longer battery life, switch to the aforementioned ones.
It also has a fast charging time. We do suggest getting spare batteries just in case yours run out but in case you do, just recharge it and you won't have to wait for a long time.
We think this is one of the best options out there for beginners just because most of its mechanisms are beginner-friendly. It doesn't have too many features that you need to grapple with. It is not hard to maintain as well. It even comes with a fairly large LED screen that will provide you with the information you need to know to get the right settings.
Another upside to this gun is that it doesn't break paintballs like other powerful guns. You can maximize its use and retain its accuracy without breaking paintballs.
You do have to change the stock barrel. Most marksman paintball guns have this issue and this one isn't an exception. They also need to make some changes with the way the grip is designed. Once you already have the battery in place, it tends to stick out and get in the way.
Pros:
Good battery life
Big LED screen
Excellent durability
Ideal as a beginner gun
It's not hard to maintain
Does not break paintballs
Cons:
The stock barrel isn't that great.
The battery in the grip tends to get in the way.
This won't fail you if you are a beginner looking for an accurate paintball gun. However, with its reliable features, we're certain you will still love it even as your skills turn to intermediate or expert levels.
4. Tippmann Cronus Paintball Marker
The Cronus is popular for a reason:
It delivers.
At an affordable price tag, this gun doesn't skimp on features. It won't break the bank but has a long list of features that you will find beneficial. It is designed to withstand extensive wear and tear and can easily go from a beginner to an intermediate level gun.
It brings accuracy to the table minus the complicated features that you can expect from highly accurate guns. This is why many beginners are drawn to this gun. This is their starter gun but they don't have qualms using it even as they add up more guns to their arsenal.
It is a tad heavier than what you might find out there, especially the high-end alternatives, but it makes up for it with its rigid construction. It's one of those guns that you can treat roughly and not worry that it will give out right away.
This .68 caliber gun makes use of CO2 and HPA Air technology. It has a mechanical trigger and comes with a 9-inch stock barrel. The setup is fairly good for a beginner but should you wish to make changes to it, that can be done as well. It can be customized to become a more powerful and accurate gun. In fact, Tippmann is known for its fully customizable guns. Their designs allow for seamless modifications.
One of the things you will like about this gun is the Picatinny rails included. This is what will allow you to add the attachments you prefer. Whether you are in need of scopes or red sights, this should serve you well.
The accuracy is comparable to more expensive models as well. This can easily hit a target with a maximum range of 150 feet. It only has one firing mode, which is the semi-automatic mode but it is capable of firing up to 8 balls for every second. Even professionals will find it reliable and accurate.
We also like the fact that Tippmann made every effort in making this gun more comfortable to use. Despite its heavier build, it does have a lot of ergonomic features. One of them is its rubber grip. It is comfortable to use and doesn't make it difficult to lug around. Some guns tend to have slippery grips, which makes them difficult to hold when you have sweaty hands or when you are playing in the rain.
It doesn't cause hand strain or fatigue either. That is mostly due to its in-line bolt system. The line is found inside the gun rather than the usual outside position. This makes it easier to find a comfortable grip when playing, which means you can play with ease.
Just be careful when putting the safety switch back on. It's a little difficult to maneuver.
Pros:
Strong and long-lasting build
Highly accurate gun
Easy to maintain and clean
Powerful firing mechanism
Comfortable and easy to use
Cons:
Safety is difficult to move back to its original position
This gun's reliability is a legend. Whether you are a beginner or a professional, you will surely love to have this in your arsenal. Read our full review of the Cronus here.
5. Tippmann Gryphon FX Skull Basic Gun
Is it really possible to get an accurate paintball gun at a price range that everyone can afford? Yes, it is! This gun from Tippmann proves it. It's one of the cheapest guns out there, which targets beginners with its price point but is actually reliable enough to work even when your skills advance.
First of all, the accuracy of this gun is unreliable for its price. You would get the same accuracy from more expensive guns. If you are on a tight budget but you are looking for one that will not compromise on accuracy, this will be it.
Its speed is also at a decent rate. In fact, since it is a Tippmann product, you can customize it. Change the stock barrel to a longer one and you will get an even better speed and accuracy. Even with the stock barrel, it's still quite accurate. You don't need to be a marksman to be able to enjoy its accuracy.
The design is beginner-friendly as well. It has an internal air line, which means you can play without obstructions. We like how lightweight it is but without feeling flimsy. It has a good distribution of weight.  The position of the body frame and the loader strikes a good balance. Even beginners will feel like they have been using this paintball gun for a long time.
Most Tippmann guns out there are heavy-duty and this one isn't an exception. It can withstand a whole day of playing without issues. In fact, it has yet to show problems and signs of wear and tear even if people have used this for years already. The high impact composite body is impervious to damage.
We like the rigid front grp. Some guns have a thin front grip that makes them difficult to hold when you are running. This one has a solid front grip.
The skull design can be cool to some people. Others might not like it quite as much. It all boils down to personal taste. But if you are willing to overlook the skull design, this can be a sleek-looking gun that you will use a lot in your arsenal.
Another cool feature is its center feed design. It makes it easier to use from the left or the right.
Just change the ball detents if you like. They are not as durable as the rest of the gun. It can also get a bit loud but you will eventually get used to it.
This is a reliable gun like many of Tippmann's guns. Of course, you shouldn't expect a lot of impressive features with it, considering its price point. But at an accessible price, its features are quite commendable.
Pros:
Very accurate for its price point
Decent speed
Accurate without needing to be a marksman
Lightweight
Has an internal air line, making this easier to hold and aim
Can withstand a day of playing
Cons:
Stock ball detents are not as durable
Quite loud
For its price, this one is hard to beat. It's a basic gun that will not fail you when it comes to its accuracy and reliability. It's a great buy if you are on a tight budget. But even if you have a bit more money to spare, this can still be a good option. Even seasoned paintballers still enjoy using this.
Which is the Best Accurate Paintball Gun for You?
Out of all these options, which one should you go for?
Great for Beginners: Spyder Fenix Electronic Paintball Marker. This electric gun simplifies everything for you. It doesn't require too much tinkering and has a low-maintenance kind of design that will ensure you will not have trouble keeping it in great condition. Yes, it's accurate too. It's one of the most accurate electronic paintball markers out there and can be more accurate if you change the stock barrel to a better one.
Most Reliable: Tippmann Cronus Paintball Marker. If you are looking for a versatile entry-level marker, you should look no further than this one. It's a reliable marker that has features even beginners will find easy to figure out. Its highly modifiable design also makes this a clear winner for pros who don't want to spend too much money. You will not have problems with this marker for a long time.
Most Durable Choice: Planet Eclipse EMEK 100 Mechanical Paintball Marker. The unparalleled durability of this paintball marker makes this the best choice for different types of paintball enthusiasts. It's not just accurate, it is also comfortable to use and has easy mechanisms that ensure you can use this gun seamlessly. It's a great buy no matter what your priorities are when it comes to features.
Most Responsive: Empire Paintball Empire Axe Marker. This gun will not disappoint you. With a reasonable price tag and basic features that are all quite useful and convenient, it will be a staple in your arsenal. It might not have a lot of cool and high-end features but its reliability and responsiveness are some of its strongest suits. It's a great buy if you are looking for a paintball gun that will not break the bank but has a good balance of features.
Most Affordable: Tippmann Gryphon FX Skull Basic Gun. This is the best accurate paintball gun you can find in this price range. It has all the right features you might be looking for in a basic gun but is customizable enough that you can add some more features when needed. You won't regret buying this even if you end up needing a better gun as your skills progress. You will still find it enjoyable to use.
Conclusion
At the end of the day, which one you should choose depends on what your needs are. For hobbyists or occasionally paintballers, you probably need only basic paintball guns.
However, keep an eye out on paintball guns that have customizable features. They are a great value for your money because they can be customized to address your changing needs – whether you want close-range or a long-range paintball sniper rifles configuration.
Be sure to learn more about the warranty as well and buy only from reputable paintball gun brands.
Last Updated on October 28, 2022