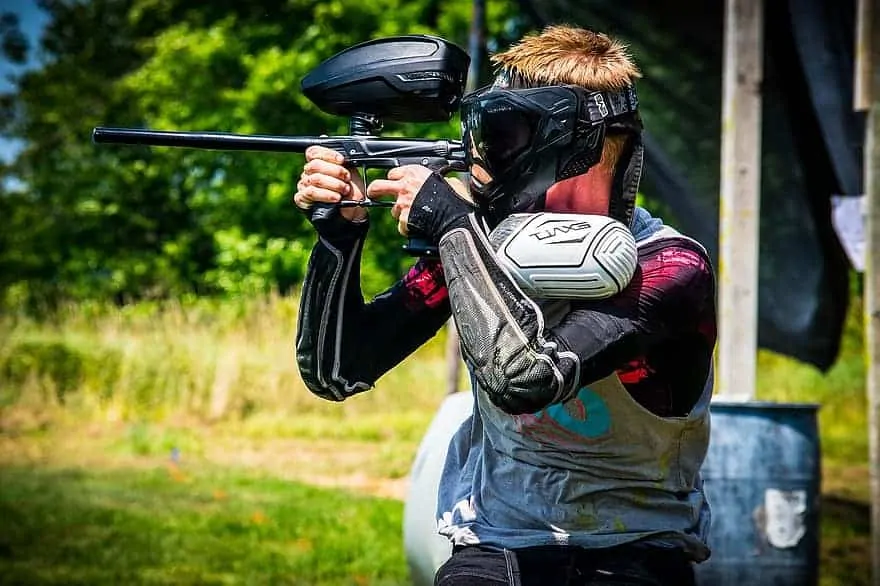 If I were to say that paintball guns can be cute and deadly at the same time, I wouldn't be lying. 
And this model is here to prove it.
The Empire Axe 2.0 is no stranger to rough handling in the field or intense short-range duels, yet this is perhaps one of the most stylish markers I have seen so far.
While a mid-priced model like this is usually considered only suitable for mid-level players, but this marker delivers excellently in performance for all skill levels, even surpassing some pricier options.
If you need to dive into paintball with vengeance, then the information I provide you on this Empire Axe review should get your mind and eyes set into it. I'll tell you how it can afford you enough firepower to outgun your opponents. 
Let's go!
Presenting: The Empire Axe 2.0 Paintball Marker
The Empire Axe 2.0 is the sort of product that may not be able to leave a strong impression by looks alone. I mean who would think that cute and deadly are mutually compatible?
But a few minutes into the field proved just how wrong I was by misjudging it by looks alone, in this Empire Axe review, I will share why this marker is a perfect mid-range rapid-firing marker, and what it can do for you in the field.
Let's get started.
Design & Build Quality
The model is visually impressive, this much is certain, and you've got a ton of different choices when it comes to color and patterns.
But apart from the aesthetics, the Empire Axe's design is very practical too. Since it boasts a hoseless body, you can kiss goodbye to all the problems associated with a hose such as leakages.
The air transfer is less prone to disturbances when compared with conventional models, and this alone can justify the price tag. You will also be amazed by its lightweight frame which feels like air (just 3.08 lbs) but is just as sturdy as paintball markers get – the perfect combo.
Best of all, it is highly compact, allowing it to flawlessly fit into the role of mid-range assault-type marker.
Field Performance
In the field, the first thing you'd notice is that this marker is meant to boost your maneuverability. Every second counts in competitive paintballing, a lighter and easily manageable marker will make a huge difference.
Not only does it fire rapidly (thanks to the electric trigger), but when the marker is ramped, it can unleash a barrage of paintball pellets at your hapless opponents. The volleys are fired with an appreciable velocity and pack a solid punch of power as well.
And it's pretty accurate too, bad for your victim. 😉
The best part about its performance is how noise-free it is. You can do some serious damage with this marker, if you opt for a stealthy approach, just play your cards right, and your opponents won't even get the chance to retaliate.
It is also very efficient when it comes to gas usage, and offers a comfortable handling. Barely any Empire Axe review from a user goes by without the mention of its superior handling – which is unmatched by cheaper products.
Likes & Dislikes Of The Empire Axe Paintball Marker
To sum up my stance in this Empire Axe Pro review, here are my likes and dislikes for this model:
Likes For Empire Axe
The marker is very efficient when it comes to the usage of gas.

It does not chop balls at all (the probability is there but it didn't happen with me).

The maintenance is simple: just a little oiling and a little cleaning, and that's it.

The shots are rapid, powerful, and very accurate.

This marker has a compact and lightweight body, perfect for mid-range assault.
Dislikes For Empire Axe
If you were looking for a realistic design, based on real-life guns, look elsewhere.

The feed neck is not the best there is, you'll have to improve it.
You've Got Other Options Too
The Empire Axe 2.0 is as impressive as compact markers can be, but if it doesn't resonate with you, you've got other options too:
Tippmann TMC Marker:

If realism is your thing, then magfed markers like this one are perfect for engaging in military-like simulations.

Planet Eclipse Etha 2:

This battery-powered marker can fire as many as 20 rounds per second when ramped, if you want something comparable to the Axe, only different, then this may be right up your alley.

Empire Mini GS: You will also find several Empire Axe vs Mini GS comparisons, both are more or less similar, you can try this one out if you don't feel like paying extra bucks for the Axe.
What Did The Users Say?
You will find a ton of Empire Axe Pro reviews from customers praising this marker's cost-effectiveness. The rapid firing rate and highly accurate shots have also gathered much praise from several users.
However, other users complained about getting shipped second-hand products from certain buyers – this is not a flaw in the model itself but my point is that you should only get it from trusted sellers who have a decent reputation.
All in all, the client pool for Empire Axe 2.0 is filled with satisfaction for the most part.
FAQ Section
Here are some queries that people usually have about Empire Axe 2.0:
1. Is the battery long-lasting?
Yes indeed.
2. Does it fire in fully automatic mode?
Yes.
3. Would you recommend this model for speed-balling?
Absolutely.
4. Can I use a carbon dioxide tank with this marker?
No, it uses an HPA tank.
5. What are the maintenance requirements?
Just lubricate the moveable parts and keep it clean.
Since we're nearing the end, why not steal a quick peek at this super-helpful YouTube video about rapid-firing?
Bottom Line
This Empire Axe Paintball gun review was merely a neutral analysis on my part, and I also aligned this article with the comments and reactions of verified users from the paintballing community.
I will stand by my initial judgment: the Empire Axe perfectly delivers a deadly combination of charming looks and flawless field performance. This much is enough to make it aces in my book.
If you do happen to get your hands on it, you'll see why this review, and many others like it, painted a positive picture for this model.
That's all from my side, let's hear from you in the comments section below!
Last Updated on October 28, 2022