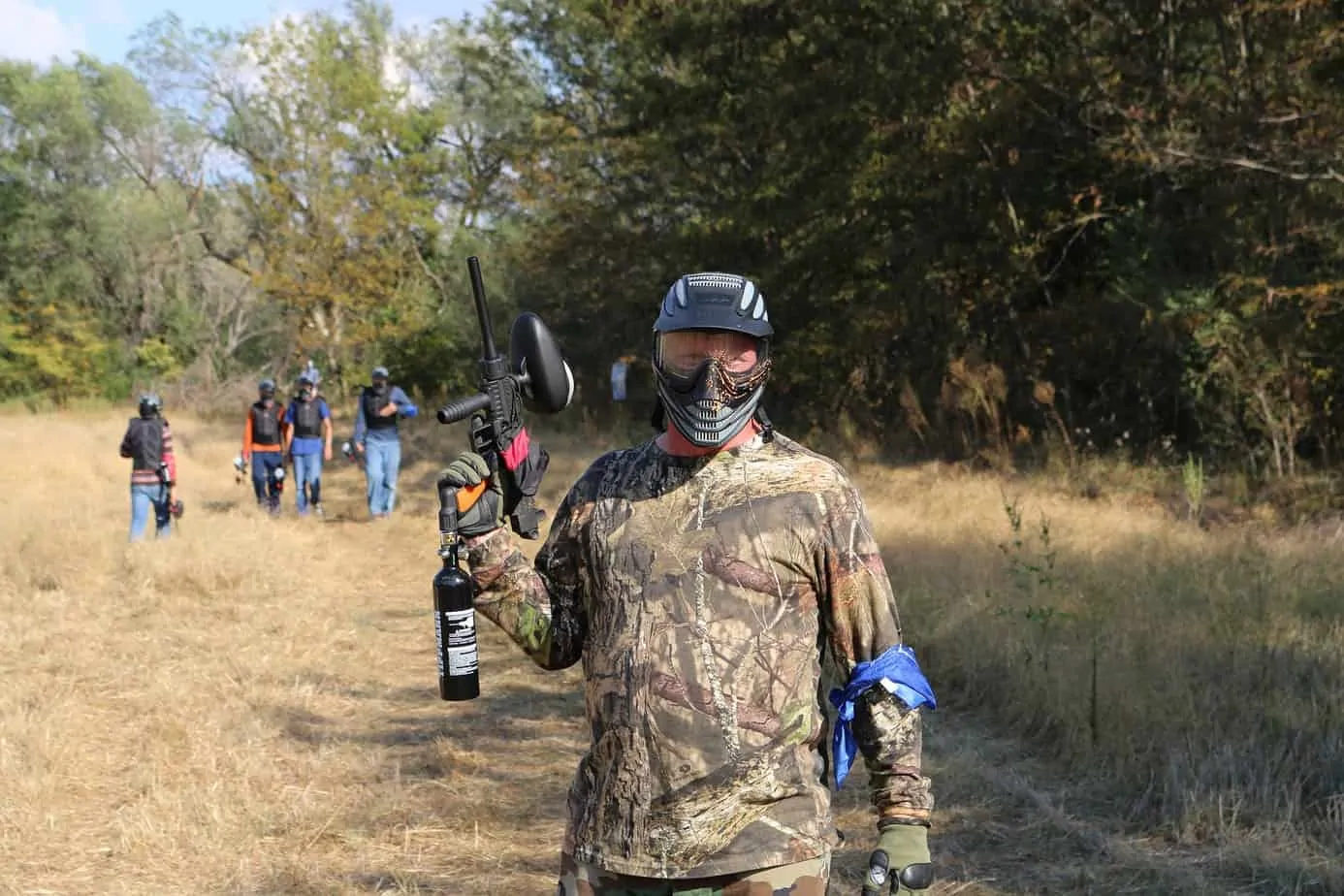 If you wish to be part of the world of paintball then you need to gather all the necessary gears, accessories, and items that prove to be useful on the field.
In this case:
One vital paintball accessory you should never forget to invest in is the paintball tank. It is a vital accessory as, without the best paintball tank, you will have limited playing time.
You have to invest in a good paintball tank, which specifically suits your needs.
However…
You may realize that making a choice of a tank is a hard decision, especially if you are still a beginner in the field of paintball. The good news is that we have compiled some of the most reliable paintball tanks today and wrote short reviews about each one.
With the information you will gain here, making your choice out of almost hundreds of options, it will definitely be much easier.
Best Paintball Tanks 2023
Product
Details

1. Ninja Compressed HPA Paintball Air Tank

Excellent Performance

Sturdy & Lightweight
Withstands Abuse
Price: $$$

Check Price

2. Empire Paintball Carbon Fiber Air System

Provides Stable Pressure

Lightweight & Durable
Steadily Reliable
Price: $$

Check Price

3. Ninja 4500 PSI Carbon Fiber Paintball HPA Tank

Handles All Kinds Of Paintballs

Easy Carry
Comes In Multiple Colors
Price: $$$

Check Price
Top 10 Paintball Air Tanks Reviewed
1. Empire Co2 Tank

One of the best paintball air tanks that I am sure you can easily access in the market today is the Empire CO2 tank. I find it instantly favorable because it arrives at your doorstep fully tested and ready for filling. That said, expect it to be fully ready for use in a competition right after you take it out of the box.
I am also happy with the built-in repeater pin valve in this tank. It is because I realized that it is actually the sturdiest pin valve that anyone can find in the field. I noticed that it even comes with a recessed valve, which is useful in easily and conveniently connecting it to the unit.
Constructed out of brass with sturdy brass fittings, I am pretty sure that this tank will last for quite a long time, too. You will get to enjoy its reliability and durability regardless of what level of play you are already in. It also comes with a durable and lightweight aluminum cylinder capable of withstanding too many activities and abuse.
It is a solid piece of CO2 tank, which will never let you down once you use it in the field. What is even better about it is that it seems to be just at the right size. It is also complete with all the features you probably need once you use it in paintball, including the pod belt, pods, barrel condoms, hoppers, mini-hopper, electric hopper, and the best paintball loaders.
Refilling it is also affordable. However, I find it bigger than what I first expected.
Pros
Ready for use for competition right out of the box
Comes with a sturdy pin valve
Highly reliable regardless of your level of play
Can withstand too much abuse and activities while remaining lightweight
Affordable refilling
Cons
Bigger than what most users expected at first
---
2. Ninja Compressed HPA Paintball Air Tank

If you are looking for a Ninja paintball tank, then its compressed HPA air tank is definitely for you. This Ninja air tank 68/4500 continues to impress the majority of its users as aside from being available at a good size, it also delivers truly excellent and remarkable performance when used in the field.
I find this tank awesome as it is also constructed out of carbon fiber, which is known for providing the right balance between sturdiness and lightness. This is one of the bigger HPA tank sizes, which means that it can supply you with more gas for the money you spent.
I am sure that you will enjoy the lightweight nature of this paintball tank, too. Considering its lightness, I can offer a guarantee that it will never give you a hard time once you carry it on the field. It will never slow you down nor limit your movements because of the light paintball tank weight.
Aside from being easy to carry and manage, you will also instantly notice that you will not have a difficult time storing it once you are no longer using it. It also helps every paintball player fire the best and the most accurate shots, which is actually very important if you are a serious player.
It holds a good amount of air, giving most users the chance to last for two to three rounds before the need for refills.
One thing I am not so happy about in this air tank, though, is that it is quite prone to dents, especially with heavy use and abuse.
Pros
Made of sturdy yet lightweight carbon fiber material
Comes at the right size, supplying you with enough gas
Lightweight so carrying and storing it is easy
Helps users fire accurate shots
Can last for multiple rounds before requiring refills
---
3. Tippmann Empire Basic 48ci – 3K Tank
Another reliable option for paintball tank buyers is the Tippmann Empire Basics 48ci – 3K Tank. Constructed out of aluminum material, I can assure the majority of its potential users regarding the lightweight nature of the tank. I also figured out that it works as a reasonably priced choice for any player who wishes to upgrade to an HPA system.
What I am so glad about this paintball tank is that it takes pride in its 3000 PSI fill capacity. It also comes ready fitted with the required regulator. It is not as expensive as fiber-wrapped bottles, which is actually a good thing for those on a budget who are really serious about upgrading from CO2 to compressed air.
You also have a guarantee of the quality of this system. In fact, the pure energy regulator that comes along with it has set a high standard in terms of reliability and performance for thousands of years. With that, you have a guarantee that this system will serve you without any trouble for many years.
Another great benefit of the Empire Basic 3K tank is the fact that it lets you enjoy around 500 to 700 shots depending on your paintball marker. It has a user-replaceable bonnet, too. Furthermore, it is one of those paintball tanks that are easy to use, read, and maintain. It is not that heavy, as well.
However, it is still heavier when you compare it to those paintball tanks constructed out of carbon fiber. Still, it does not necessarily mean that the weight of this one is not manageable.
Pros
Comes at a reasonable price
Features a readily fitted regulator
Reliable pure energy regulator
Can let you enjoy around 500 to 700 shots
Easy to use, read, and maintain
Cons
Despite being generally lightweight, it is still heavier once you compare it to the carbon fiber tanks.
---
4. Empire Paintball Carbon Fiber Air System

Another highly affordable option that I can recommend to those who are thinking about upgrading to an HPA system is the Empire Paintball Carbon Fiber System. Since it is mainly constructed out of carbon fiber, I am sure that it is designed to impress as far as its lightweight construction and durability are concerned.
Aside from being constructed from carbon fiber, it also has a regulator, which is made out of lightweight aluminum. With such a regulator, you will experience utmost convenience using the tank. I can also assure you of the steady reliability and performance of this carbon air-fiber system.
The pure energy technology regulators that it uses can also give you a guarantee of the system's stable pressure output, good flow, and a high level of efficiency. I am also happy with the high level of safety it offers. I noticed that it is safe because of the built-in low and high-pressure disks.
It also takes pride in its 4,500 PSI fill capacity as well as 800 PSI output pressure – both of which meet the standards in the paintball industry. It has a 5-year retest cycle, allowing the tank to operate for several years without hampering the overall quality of its performance.
You will also immediately notice that all of the components of this system meet and even exceed the standards and requirements set by the paintball industry.
It is slightly bulkier than what others initially anticipated, though.
Pros
Constructed from high-quality, sturdy, and lightweight carbon fiber
Features a regulator built using lightweight aluminum
Provides a stable pressure output and good flow
Safe – thanks to the built-in low and high-pressure disks
5-year retest cycle
Cons
Bulkier than other paintball tanks
---
5. Ninja 4500 PSI Carbon Fiber Paintball HPA Tank
Another HPA tank that you should include in your list of choices is the Ninja 4500 PSI Carbon Fiber Paintball Tank. It is one of those tanks that will never cause any disappointment to potential users. I realized right away that it performs an excellent job as far as regulating and controlling air is concerned.
I even agree with some users who say that it is one of the sturdiest tanks available in the market. I think that it is designed to be long-lasting and lightweight, and I think that it is made possible with its carbon fiber construction. The carbon fiber material is strong and solid enough that it is capable of taking too much abuse without any signs of wear.
I am sure that you will also be glad to know that it is available in multiple colors. With that said, it is possible for you to find one that perfectly suits your paintball marker or gun. It is also nicely designed, making it appealing not only to your eyes but also to your teammates.
It is also built to handle all forms of paintball competition. With its lightness, carrying it around in the field will be much easier. Unlike the CO2 tank for paintball, this HPA tank can give you a strong edge and tactical advantage in the field as it is not prone to freezing.
However, it is one of the pricier paintball tanks that you can access in the market today. Fortunately, it truly provides great value for its price.
Pros
Performs well in regulating air
Sturdy and long-lasting while retaining its lightness
Constructed out of strong and solid carbon fiber
Can handle all kinds of paintball
Not prone to freezing
---
6. Maddog Aluminum Paintball Tank

Another paintball tank that I am sure you will never regret investing in is the Maddog Aluminum Paintball Tank. I highly recommend it to those who are searching for the ideal CO2 tank for their paintball guns. One favorable advantage of the tank is that it uses a high-quality aluminum material for its construction.
The aluminum material is lightweight enough while still having the ability to retain its sturdiness. This sturdy aluminum paintball tank is also capable of giving you around 800 to 1,000 shots per fill, which is not actually bad for serious paintball players. It has a 20-oz. capacity, too.
With this tank, you will get a constant supply of CO2 air, which is considered to be the most inexpensive and readily available source of air. The good 20-oz. capacity of this tank can also help ensure that you will never run out of air in the middle of the game. I also like the fact that this brand always supplies fresh paintball tanks.
This means you do not have to worry about receiving any out of date tank. Offered at an affordable and inexpensive price, I am sure that this paintball tank will continue earning great reviews from the public. It is a great tank, which is capable of holding pressure, too.
However, the pin valve seems to be prone to leaking when used heavily and constantly.
Pros
Uses high-quality and lightweight aluminum material
Can provide 800 to 1,000 shots per fill
20-oz. capacity, which prevents you from running out of air in the field
Affordable
Fresh tank always provided
Cons
The pin valve is prone to leaking.
---
7. Ninja Air Aluminum HPA N2 Paintball Tank

Another of the best paintball tank that I think should form part of this review article is the Ninja Air Aluminum HPA N2. It is actually one of those tanks that are constructed out of sturdy aluminum material.
One thing that captured my attention about this paintball tank is the fact that it is adjustable. I can easily adjust the pressure from the low, medium, and high. I also think that this paintball tank is really suitable for those who are using a pistol or gun, which comes with a remote line.
A full-sized tank is also capable of giving you an average of 200-400 shots, which is not that bad if you really want to enjoy a good session of paintball. It is also compatible with magfed. In fact, I found out that it works flawlessly in that area. It is also the perfect tank for paintball players with shorter arms.
Furthermore, it is a big help in minimizing the weight without having to use a remote line. It also does a pretty good job of maintaining your desired pressure while handling heavy use and beating.
However, be aware that this paintball tank is also pretty heavy.
Pros
Made of sturdy aluminum material
Gives users the opportunity of adjusting the pressure
Provides more than enough shots for its capacity
Can handle heavy use and beating
Compatible with magfed as well as pistols or guns with a remote line
---
8. Tippmann Aluminum CO2 Paintball Tank

If you are in search of a CO2 paintball tank then I think that this aluminum model from the renowned brand, Tippmann, is an excellent choice for you. One thing that I truly enjoy about this paintball tank is the fact that it specifically meets the standards set by the industry, which means that it is safe and ready to use right out of the box.
The quality and durability of the products offered by Tippmann also serve as strong indications that its paintball tank is also constructed with the same level of quality and durability. I also appreciate this paintball tank as it lets me choose the right size that is suitable for me.
It is mainly because it is currently available in 9-oz., 12-oz., and 20-oz. tanks. With that, picking your choice based on what works for you the best is possible. It is a good quality tank while having a recent manufacturing date, proving that it is indeed fresh and still far from its expiration date.
I am also glad about the inclusion of a pin lock adapter and a regulator in this product. Furthermore, filling it up does not require you to spend too much as it is truly inexpensive.
However, one issue that you might encounter with the tank is its weight as it is heavier in comparison to other CO2 paintball tanks.
Pros
Safe and ready to use out of the boxy
Highly durable – thanks to its aluminum construction
Allows you to choose from its three sizes
Comes with a pin lock adapter and regulator
Inexpensive to refill
---
9. First Strike Hero Guerrilla Compressed Air HPA Paintball Tank
Another product that in my opinion deserves a spot on this list is the Hero Guerrilla compressed air HPA paintball tank from First Strike. It is an excellent choice, especially if what you are searching for is a compressed air tank.
I noticed that despite being constructed out of aluminum, it still looks a bit the same as carbon fiber. The good news is that it does not require spending a huge amount of money.
Another great benefit of this paintball tank is that it seems to be more compact and smaller than the others, which is one of the reasons why it seems to feel more comfortable on your shoulder. I even noticed its usefulness in balancing my paintball marker well.
It performs well in the field while still being offered at a cheaper price than the ones offered by more recognizable brands. I am impressed with its overall performance plus I am glad that it has extra burst disks and a plastic cap designed to keep the treads fully protected.
However, I found out that it is slightly heavier and prone to scratches, too.
Pros
Ideal for those searching for a compressed air tank
Boasts of a durable aluminum construction
Offered at an inexpensive price
Compact, making it more comfortable to carry around
Comes with a plastic cap for full protection of the treads
Cons
Slightly heavier than the others and prone to scratches
Boasts of a durable aluminum construction
---
10. Empire Ultra HPA Carbon HPA
The last product that I am truly happy to recommend is the Empire Ultra HPA Carbon Tank. It works and does not seem to disappoint the majority of its users regarding its overall performance.
Made in the US, this tank has an edge over the others because it truly delivers what it promises. One thing I noticed about it is its ultra-lightness. I think that this is made possible with the carbon fiber material used in it. Such material is 30% lighter when you compare it to the other materials used in the tank.
It also has a good capacity. It even comes with a cylinder, which is around 80 cubic inches. I am glad that this paintball tank is paired with the brand's proven regulator as it also means that it stays consistent, lightweight, and stable in the field.
It is a great tank capable of letting you enjoy several rounds of paintball with each refill.
However, take note that its price is higher than the others.
Pros
Delivers what it promises in terms of performance
Totally lightweight
Uses the reliable and sturdy carbon fiber
Features an 8-cubic inch cylinder
Paired with the brand's highly reliable regulator
---
What To Look For When Buying A Paintball Tank
In your search for a good paintball tank, here are some of the important qualities and factors you have to check and assess thoroughly to boost your chances of finding the one you specifically need.
Types
One of the things you have to be aware of regarding paintball tanks is their common types. Basically, there are two basic kinds of this tank.
CO2 Tank
The first one is the CO2 paintball tank, which is used widely in the sport. One advantage of this specific type is that it is an easy paintball tank to refill. You can also access CO2 almost anywhere.
Aside from that, many prefer to use the CO2 paintball tank because it costs less when compared to the other type, which is the compressed tank. However, it has a drawback, too – and that is the fact that it has the tendency of freezing up. When that happens, it might also cause regulators to freeze, thereby preventing your gun from properly firing.
HPA Tank
Another type of tank that you can use in the sport is the compressed air paintball tank. Also called high-pressure air (HPA) tank, it is less common when compared to CO2. You can see it is normally used by those who are interested in playing competition-styled paintball.
The best HPA tank for paintball can actually help you save money over time, especially if your chosen provider supplies compressed air refills without charge. Another great advantage of the compressed air or high-pressure air tank is that it does not freeze up.
However, it also has a drawback, which is the need to use a special regulator just so you can use compressed air effectively. This might increase the specific amount of money you need to spend. With their individual pros and cons, it is up to you to figure out which of the two types can give you the edge once you start playing.
Tank Size
Another crucial consideration is the size of the tank. It is a vital factor, especially if you are really serious about participating in the sport. With that in mind, you have to consult a paintball tank size chart so you can figure out which one suits your needs the most.
One of the most common sizes of paintball tank is the 68-4500, which refers to a medium-sized one. It is lightweight enough, which enhances its popularity. Considering the fact that it is light, it is no longer surprising to see users having an easier time carrying it.
If you are unfamiliar with the sizing yet then take note that the number 68 indicated in the size refers to the total cubic inches of available space within the tank. This means that in case it becomes full, it is capable of holding gas, which is up to 68 cubic inches.
The 4500 figure, on the other hand, refers to the total number of pounds per square inch that the paintball tank can produce. Aside from the 68-4500, other sizes are the 50-4500, 77-4500, and 90-4500, which is the biggest paintball tank you can find. Take note, though, that the 68-4500 is the standard size used in most fields.
Tank Material
Making a good choice also requires you to become familiar with the materials used in the paintball tank. Note that you can't expect the paintball tank to work efficiently if it is constructed out of poor materials. One common material used in creating the paintball tank is steel.
It is a durable material capable of holding up well during wear and tear. It is also cheaper when compared with other materials. The problem is that it is heavier and harder to manage than other materials.
You can also choose a paintball tank constructed out of aluminum material. In comparison to steel, aluminum is lighter, thus, it is easier to carry, which is why you can commonly see it on the paintball field. Many consider it the lightest paintball tank. The problem is that it is also less durable when compared to steel.
It is also prone to denting if abused. However, with proper care, it is possible for aluminum paintball tanks to last for quite a long time. Another issue is that it costs higher when compared to those tanks constructed from steel. Despite that, many still favor aluminum because they feel like it is worth the money.
Another material, which is commonly utilized in making a paintball tank, is carbon fiber. One great advantage of carbon fiber is that it is extremely strong while still retaining its lightness. The capabilities of the carbon fiber are among the reasons why it is preferred by those searching for a professional paintball tank, which is strong enough.
However, take note that among the three, carbon fiber paintball tanks seem to hold the highest price. Despite that, their ability to handle a lot of abuse because of their extreme strength while ensuring that they remain easy to manage and carry makes them worthwhile to buy.
Sturdiness/Durability
Another important factor that should contribute to your final choice is how sturdy and durable the paintball tank is. Note that you need a really sturdy and strong one – that is it should be capable of holding up to and withstanding the pressures that it might experience on the field.
The best paintball air tanks are actually those that can withstand a lot of abuse and wear and tear. Also, remember that you will most likely play the sport in various locations. In some cases, you will be in an adverse location, which also exposes you and your tank to a number of harsh elements, like water and sand.
Ensure that you indeed search for a strong and durable tank so it can handle whatever force or harsh element it gets exposed itself to.
Weight
It is also a must for you to look for lightweight paintball tanks. Remember that what you need is a tank, which you can easily carry once you get to the battlefield. Avoid choosing a tank, which extremely heavy. You should be able to handle and manage it easily, especially if you plan on joining competitions.
Built-in Features
You also have to spend time assessing the built-in features of the paintball tank prior to buying. Note that paintball tanks are not made to be the same. Their features even vary. Among the features that you have to evaluate, therefore, are the material composition, brand, pressure rating, and size.
Frequently Asked Questions (FAQs)
What is the date indicated on the paintball tank?
In the majority of cases, a paintball tank is labeled with a date, which will serve as your guide on when is the perfect time to have it hydro-tested. Note that every 3-5 years, a paintball air tank needs to be hydro-tested. You can see the manufacturing date of the tank, too, and you are responsible for hydro-testing it again prior to its expiration.
Hydro-testing the tank actually refers to a process wherein the tank will be pressurized at a specific level higher than what it can handle based on its rating. If the paintball tank withstands the higher pressure without failure then it passes the test. Once passed, it will be valid for 3-5 more years.
Failing the test, however, requires you to buy a new tank. Passing the hydro-test will prompt your chosen testing facility to mark a new year and month tag into your tank, which is often protected beneath one layer of epoxy. The tag will instantly indicate that the tank underwent the test and successfully passed.
The new date stamp also serves as your new reference when it comes to determining when you should let it undergo the hydro-test again, which is often after 3-5 years. It should be noted that hydro-testing is vital for the tank. It is because it is illegal to fill a paintball tank, which is already out of hydro-date.
Does the paintball tank come with a gauge?
In most cases, yes. The paintball tank already comes with the gauge. However, take note that you can also easily replace the one that is already built into your tank. You can replace it in case you feel like you need a better one.
Alternatively, replacement is necessary in case of a blown gauge. You can also buy a spare gauge just so you are prepared just in case the one you are using fails.
What kind of regulator does a paintball tank have?
The majority of HPA paintball tank requires the use of a regulator. The good news is that most of these tanks are sold with a regulator already built-in, so there is no need for you to worry about having to purchase it separately. Standard regulators also work for the majority of tanks.
Note that the regulator is crucial for your paintball experience. It is because this device helps to ensure that you get a sufficient amount of air necessary for operating your paintball marker. It is also necessary for regulating the amount of air that your gun releases when making a shot. This results in a consistent velocity and accuracy when you fire rapidly.
What size paintball tank should I get?
The size of the paintball tank matters a lot when you are already on the paintball field. That said, you really have to choose the ideal size prior to starting your game. To get the ideal size for you, ensure that you choose a tank, which tends to stop at your elbow's crease when you hold your gun or marker in your hand.
In case you can't buy it in a physical shop then you can always check out the measurements of the tank online so you can take a more informed and educated guess. If you are someone with an average height, then the ideal paintball tank size for you is usually the 48/3000 or the 68/4500.
For really tall players and those who intend to carry the tank on their bank, it would be best to pick one, which is on the 90/4500 or the 100/4500 size.
What is the difference between CO2 and compressed air for paintball?
CO2 and compressed air paintball tanks are two of the most commonly used tanks in the field of paintball. The two work differently, though. Note that carbon dioxide tends to change into gas coming from its liquid state. When this happens, it expands, thereby creating pressure.
It is this same pressure, which is used in firing through a paintball barrel kit. CO2 tanks have to be filled with approximately 850 psi. This varies, however, based on the temperature and elevation. What is good about the CO2 tank is that it does not need to be re-tested nor re-certified.
You also have an assurance that it is a low-maintenance tank. Refilling it is also relatively inexpensive. It is compact and can yield more shots when compared to compressed air. However, it also has a few issues. One of which is when the liquid expands, you can also expect it to cool down.
In the case of faster expansion, the cooling process will also be faster, resulting in an inconsistent shooting. This means that it is prone to freezing which might lead to certain mechanical issues when you are using your paintball gun.
The compressed air tank, on the other hand, is usually pressurized at either 3,000 or 4,500 psi. It comes with a regulator, which then works in regulating the pressure. This results in the tank having a more consistent pressure. You can also use it in all kinds of weather.
Rest assured that it has an improved accuracy – thanks to the gun's high velocity and firing rate. One issue, though, is that this tank is bulkier and larger than the CO2 tank. It is also more expensive plus it needs to be hydro-tested and recertified every 3-5 years.
Your choice between the two tanks, though, will greatly depend on your playing style as well as the specific marker that you are using.
Can I fill a paintball CO2 tank with compressed air?
Yes, you can actually fill a CO2 tank with compressed air. The problem when doing this is that you can only safely fill the tank to 900 psi, which is actually not that much air. If you fill it beyond that mark then you exceed what the tank is mainly designed for unsafely.
Conclusion
Now that you are aware of some guidelines in picking the best paintball tank, making a good choice will be much easier for you. Just make sure that your final choice is that, which is not only lightweight but is also easy to manage. Ensure that it fits your budget, too, so you will not end up spending more than what you initially prepared for.
Last Updated on October 28, 2022