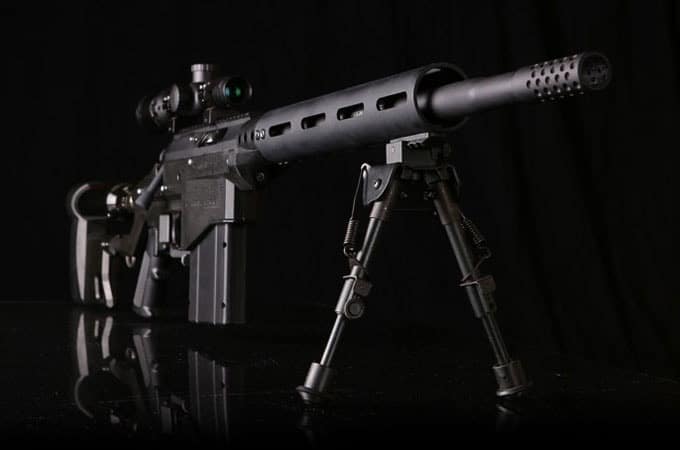 Paintball is the kind of game where most players prefer pelting their opponents with a rain of paint. And in that case, regular paintball markers should suffice.
But…
There are players that prefer stealth. They prefer waiting it out from a distance, conserving precious paint, and only pulling the trigger when they know that they have a clear shot…
This is where the best paintball sniper rifle comes in.
These markers have a longer range and incorporate features that make it easier to spot your targets from a distance. It's a good addition to your paintball arsenal just in case you are in the mood to be a covert agent and you want to get in on the action but from a distance.
We're here to help you find the best markers for long-distance shots.
Best Paintball Sniper Rifle Build Reviews for 2023
It's clear after our search that the options for paintball sniper rifle builds are quite limited. There just aren't a lot of them out there with the range that befits a sniper rifle.
But after searching, here are the ones that we think are the best choices:
Product
Details

1. Dye Dam Assault Matrix Paintball Marker

Military Design

Easy Switch (Mag To Hopper)
Customizable
Price: $$$$$

Check Price

2. Empire Paintball Sniper Pump Marker

Modernized 80's Design

Aluminum Construct
Low Pressure Operation
Price: $

Check Price
Take a closer look at the individual features of these products and what makes them the best choices as paintball sniper rifles:
1. Tippmann U.S. Army Project Salvo Paintball Gun
Try spotting a paintball sniper rifle in the same affordable price range with the same level of features as this one from U.S. Army Project Salvo from Tippmann. Although it is the most affordable on this list, it doesn't lag behind when it comes to benefits.
It's a great option no matter what skill level you have but it's more perfect for paintball enthusiasts who don't have a lot of money to burn on a new paintball gun.
This is an AR15-style kind of rifle. It has a sleek all-black look and military appeal that one would expect from a sniper rifle. It features a 6-position collapsible function complete with a foldable stock for more flexible options. The magazine can also be used as a toolkit. It's nice to have a toolkit around all the time just in case you need it. We just wish it is made from metal like the other parts. This one is plastic.
Built into the rifle's receiver is a Picatinny rail that has a unique flat-top design. This gives the rifle customizable and flexible features. You can add additional accessories such as a scope or a handle. There is no end to the modifications that you can make with this one.
There are a lot of things that you can do to improve its functionality. For instance, you can try incorporating an eGrip. There are the upgrades from Tippmann's 98 Custom Platinum series that you can also incorporate in this sniper rifle. One such example is the cyclone feed system. You can add a response trigger as well.
This sniper rifle has also been equipped with an 11-inch quick thread barrel. Made with an all-aluminum die-cast, it is sure to last you for a long time. Even the gas line is made from a durable and high-grade stainless steel that is resistant to rust and won't easily break.
Even with a lot of heavy and rough usage which is normal on paintball games, this sniper rifle holds its own and doesn't show signs of wear and tear. In fact, you can use it as a beginner and still enjoy it even as your skills have improved to the intermediate stage.
Maintenance-wise, it's as easy to maintain as other paintball guns from Tippmann. This one has a quick-release feeder elbow that allows you to access it for cleaning easily. It's great for novice paintball enthusiasts who don't know how to tinker with their paintball guns just yet.
It doesn't require cleaning every after games. Even if you go in between multiple games without cleaning it, it still functions well.
This gun has a nice and balanced feel to it, albeit on the heavy side. Smaller people might have a hard time lugging this around for extended periods of time. Beginners might struggle with their weight initially. It does have excellent accuracy like many of Tippmann's guns. Even when you shoot it long-range, its accuracy is one of the best.
It comes with a one-year limited warranty. It's comforting to know this gun is backed by a warranty from a trust-worthy company.
Pros:
Study and durable construction designed to last for a long time
Great for all levels of players
Dependable and doesn't require too much maintenance
Has a collapsible and folding stock
Looks great
Cons:
The magazine is made from plastic material
Overall, this is a solid sniper rifle to get if you are on a tight budget. It doesn't have all the bells and whistles but for its price range, it is a pretty complete rifle. Everything you might initially need from a sniper rifle is already here.
---
2. Dye Dam Assault Matrix Paintball Marker

This is the ultimate sniper gun. It comes with a hefty price but if you are serious about paintball and you do it not just as a hobby but a passion, you should invest in the Dye Dam Assault Matrix paintball marker. It's just a stunning tactical marker that sets itself apart with its beautiful mud color and military design.
One of its strongest suits and a feature that sets itself apart from all the other paintball markers out there is that it can be used with a magazine-fed system and then switched to a loader fed system with just a simple mechanism. All you need is to flip this switch and you can go from one to the other.
The magazine feed ready system is fool-proof. Its ambidextrous magazine can be released easily whether you are left-handed or right-handed. You can reload it without dismantling the entire thing. You can safely hide and keep a low profile for changing mags and reloading.
Take advantage of its eye pipe gearing that rotates to provide you with different loading functionalities. Just use the OTF switch to move your gun from its hopper feeding to a magazine feeding. If you want to pepper your enemies with more volume, regular paint should suffice. Shaped rounds are perfect for those more accurate shots.
You can start from a semi firing mode or switch it to a three-round burst or even a full auto. This marker gun can do it seamlessly. It's completely customizable to suit your play style. The Picatinny rails are standard in this sniper rifle and come in handy if you want to add some accessories. It also comes with everything you can expect from a paintball marker such as a clamping feedneck and a single trigger frame.
The single-frame trigger outclasses many others. It has actually been designed by Youngblood. It features vertical ridges. They made the face wider as well so even experts will find this sniper rifle comfortable to use. It has the stability that one can expect from competition-level firearms. You can use this comfortably even when you have gloves on.
But there are also things you can see here that you can't find elsewhere such as its hyper regulator that has been built in the system. The bolt is easy to access and take off with its quick release system. Even if you are experienced in maintaining your paintball markers, having this feature really comes in handy. It just makes the maintenance of your marker easier. It does not require extra tools to access the bolt.
Unlike the others where the regulator often gets in the way, this one doesn't. That makes it easier to access the velocity adjuster.
It is quite heavy with its 4.76 lbs. of weight, so you need to build up some strength and muscle to make sure you can carry this easily when playing.
Despite all these features, it's quite an easy paintball marker to use. It's even ideal for beginners to use. There are not a lot of screws that you need to take off or to put on to customize it to your preferences. Other than adding stock or putting on the feedneck, it's basically ready to be used. Even the battery does not require loosening up screws to change.
Accuracy-wise, this does not disappoint. The stock barrel that is made from Ultralite delivers. It enables you to utilize its first strike rounds which is what contributes to the accuracy of this gun.
Pros:
Well-made, durable, and perfect for people who don't want to do a lot of maintenance
Not too many screws to take off when maintaining it
One of the best-designed guns out there
You can easily switch it from mag to hopper feed
Cons:
Exorbitant price tag
A little bit heavy
---
3. Tippmann A-5 with Response Trigger .68 Caliber Paintball Marker
The Tippmann A-5 line has some of the best paintball markers out there with this one taking the cake when it comes to accuracy. Its 150-foot range effectively makes this an excellent choice for a sniper rifle.
Like many of the paintball markers from Tippmann, this one also has an aluminum body. It has been incorporated with the reliable inline bolt system that is known to Tippmann plus a couple of other desirable features such as its low-profile hopper system and a front and rear sling mount.
It comes with an 8.5-inch ported barrel but you should consider getting the 16-inch Tippmann Sniper Barrel. The barrel that has been included isn't the best, so you might find an upgrade necessary. It's a good thing this paintball marker has excellent customizable features. You can even add a red dot to complete your sniper setup if you want to.
Aside from its top-notch accuracy, this is also known for its speed. Equipped with one of the fastest Cyclone Feed System, it is capable of firing balls in the blink of an eye. Even without batteries, you can feed it 15 balls every second.
Putting it together is a breeze. Even beginners will not have a hard time learning how to do it. It doesn't require additional tools and in less than a minute, you should have everything set up already. This is an excellent choice for different types of players. It features a selector switch easily accessible from the outside to go originally from its safety state to firing.
The sightlines for this rifle are also good. You will like a real sniper with its low-profile hopper that gives you maximum visibility. It offers stealth as well thanks to the black gas line.
Everything about this rifle is easy to use. From the internal bore that has undergone some redesigning so that it can be stripped and maintained easily to its Tombstone connections, there's definitely a lot of things that will make playing more convenient.
It's not very heavy with only 3.1 lbs. of weight. You will like how it still has a good weight but won't kill your back when you use it to play for hours.
It responds quickly and smoothly. There doesn't seem to be a lag. One thing that contributes to its fast response is the trigger that is assisted by air. There is very little recoil, which not only makes this a joy to use but also prevents unintentional wear and tear. There is also an end cap strategically placed to absorb all the shock.
It doesn't require a lot of tweaking. You can utilize compressed air, CO2, or nitrogen straight out of the box. There are no configurations that you have to do. It does use up a lot of air. You will need to get an HPA tank to go with it. Also, be careful of the type of paint you are using. This one is rough on weaker paints.
Tippmann includes a 2-year warranty with your purchase but based on how well it deflects wear and tear, we know you might not be able to use that warranty. But just in case, that warranty is reassuring.
Pros:
One of the most accurate sniper rifles out there
Lots of opportunities to customize it to your preferences
Beginner-friendly
Easy to use and to maintain
It isn't too heavy
Cons:
You might need to replace the barrel with a better one
Tippmann has yet to disappoint with their reliability. If you get this marker, you will most likely enjoy using it for a long time. It is a great choice for beginners, intermediates, and pros alike because of how easy to maintain and customizable it is. Read our full review of the A-5 here.
---
4. Empire Paintball Sniper Pump Marker
If you are into pump playing, this sniper rifle is a good addition to your arsenal. The design of the Empire Paintball Sniper Pump Marker dates back to 1986 but has since undergone changes to create a sniper rifle that combines modern styling and effortless reliability.
It is advertised as a tournament marker, which means you are getting the same reliability and features as those used for tournaments. It is a basic pump gun, which is a good set up for beginners. With aluminum construction, it is a sturdy piece that won't give your body a beating with its lightweight properties. Its quiet functions can also be relied on for maximum stealth on the field.
It's also just as efficient as the other sniper rifles. It is comparable to electric loaders but without complicated operations. You can play with it right out of the box, no assembly and tinkering needed. It does need some disassembly if you want to clean it but since it does not need rigorous cleaning and lubing, it's not that of a big deal.
The low-pressure operation of this pump marker gives this an edge over others in the same marker category. It's easier to use. There is also an auto-trigger incorporated to speed up firing. Included in your purchase is a 14-inch barrel that is also made from aluminum material. You get 3 different sides of the insert. The feed system can accommodate 10 rounds.
As for ergonomics, it's not that difficult to use even for extended periods of time. The grip has molded wrapping to keep blisters at bay. It is very responsive and has a fast firing rate. It's almost as good as the semi-automatic ones out there. It's very accurate and can hit targets even from more than 50 feet away.
Restocking is no problem with this. You can still stay on stealth mode as it has a pump handle that allows you to restock with minimal fuss.  Put the safety back on with an easy press of a button. It's very economical as well if you want to save paint.
The noise level isn't too bad as well. It's still on the quiet side, great for keeping your hideout a secret.
It does handle a lot of rough usages. No dings and malfunctioning parts just yet even when it has gone through countless battles. It does require some adjusting from time to time just to make sure it reminds accurate and consistent.  Also, consider removing the hitman mode. It doesn't really do anything and gets in the way of the rod.
Make sure you also clean and lube it occasionally. That's the key to maintaining its effortless functionality for a long time.
Pros:
Has an auto-trigger function
Does not produce a lot of noise
Very smooth and has very little recoil
Easy to use right off the box
Paint-saver
Cons:
The 3-piece barrel kit might be inadequate for some
Doesn't accommodate a lot of customization
This is a great choice for pump players. It is consistent and has a good range. The accuracy and speed make this a winning choice in its category.
---
5. Tippmann U.S Army Alpha Black Tactical Paintball Sniper Set
This is a complete set that includes everything you need to get started in playing paintball. It is beginner-friendly and has an accessible and affordable price range considering it is a set that has all the basic stuff you need to play the game.
It's a good-looking paintball marker. Like many of the Tippmann markers out there, it has a military look. This has an M16 style collapsible stock that offers 6 different positions.  There is also a shroud with the same M16 style built in the system.
The 11-inch barrel is just right for people just starting out but should be more than adequate as well even for intermediate players. It has a removable magazine that can also be used as a tool kit so you don't need anything else to keep this rifle in top shape.
You will like the accessories included in this purchase such as the mask that also has an anti-fog lens feature. It enhances visibility even in poor weather conditions.
Construction-wise, it enjoys the same durability as the other Tippmann products. The aluminum construction is much like what you might have seen with their other rifles. It is also coupled with a gas line that is made from stainless steel. It's not going to get wonky any time soon. The heavy-duty construction ensures you will get a lot of use from this.
The stock barrel is quite good. You might not need to upgrade yet. It also brings accuracy to the table. Eventually, if you want more accuracy, you can try switching to a longer barrel. It doesn't waste paintballs but still offers decent velocity and speed. There is the occasionally jamming up of balls in the barrel but nothing you can't easily rectify.
One downside to this is that the CO2 canister tends to get in the way if you put an extended stock. You can try switching to a smaller canister to prevent this. It is also missing a cyclone loader system but it should be no problem customizing your rifle to add the features you need.
The elbow has a quick-release system that makes way for easy and breezy maintenance. The manufacturer also made sure that the bolt system which is placed in-line can be maintained without completely dismantling it.
This rifle is not that heavy as well. You can play for hours without feeling tired.
Pros:
Has everything you need to get started in paintballing
The stock barrel is fairly good
Can be customized so you can add more features that you need
Comfortable to carry
The magazine can be used as a tool kit
Cons:
If you need a rifle set that comes complete with the equipment and accessories that you need to get started in playing paintball, set your sights on this one. The price is just right and you get a load of features that you can find in more expensive guns.
---
Which Paintball Sniper Rifle Should You Go For?
Now, which of these products would be the best paintball sniper rifle for you?
For the Budget-Conscious: Tippmann U.S. Army Project Salvo Paintball Gun. We recommend this for those who are on a tight budget. It is the most affordable on this list. Despite its more affordable price range, it is reliable. It doesn't wear out easily and has accuracy and flexibility to bring to the table. It can even be modified to suit your needs as your skills improve.
If You Like a High-End Gun: Dye Dam Assault Matrix Paintball Marker. Obviously, the more expensive it is the more features you will get. This one has a lot of convenient features that will help make usage of a sniper paintball rifle easier.
Most Accurate: Tippmann A-5 with Response Trigger .68 Caliber Paintball Marker. Get this one if you are looking for a rifle that is a breeze to use but doesn't sacrifice its functionality, particularly its accuracy. You can practice stealth easily with this in tow with its low-profile settings.
Great for Pump Players: Empire Paintball Sniper Pump Marker. If you are looking for a sniper rifle with a pump functionality, get this one. It is highly reliable and has the speed and accuracy that people look for in a sniper rifle. It also works quietly and has commendable ergonomics and handling.
Complete Setup: Tippmann U.S Army Alpha Black Tactical Paintball Marker Gun Sniper Set. This has everything that you need to get started. Go ahead and enjoy playing paintball with this set that comes complete with an accurate and reliable rifle. It is durable and has seamless accuracy that is known to Tippmann.
Conclusion
Although there aren't a lot of options when it comes to long-range paintball markers, what options you have out there are mostly good. It's just a matter of choosing from the top paintball gun reviews that fit your needs when it comes to ergonomics, design, price, accuracy, and reliability.
The best paintball sniper rifle is still the one that addresses your issues and provides you with the features that you need.
Last Updated on October 28, 2022