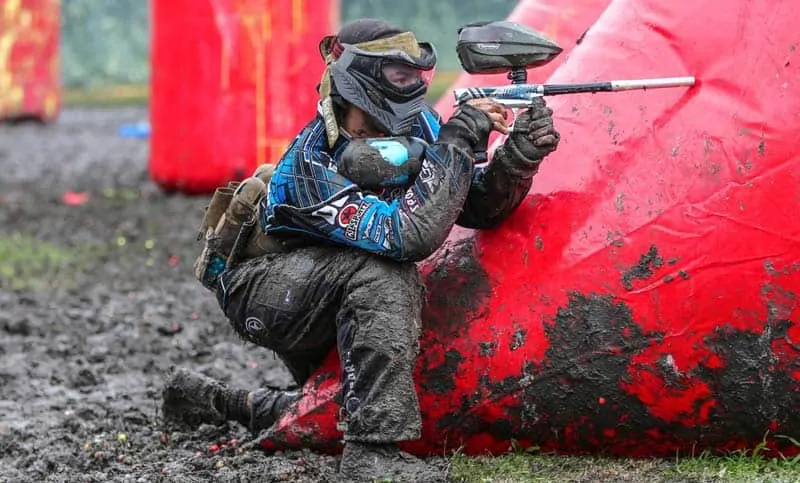 Paintball is one of the most fun and exhilarating activities that you can enjoy and play together with your friends and colleagues.
Here's why:
It is an exciting game in the sense that makes you feel like you are a part of an actual battle and channel your inner Spartan.
However, you need the right paintball marker for the job.
Fortunately, it is possible to get the best paintball gun under $300 by doing a thorough and exciting search.
This means there is no need for you to spend more than a thousand dollars and purchase expensive markers just to enjoy the game…
And the survey says:
After scouring the market far and wide, we've found you can't go wrong with choosing the Tippmann A-5 due to its speedy firing rate of 15 balls per second paired with a low-profile and reliable hopper.
Best Paintball Guns Under $300
Product
Details

1. Tippmann A-5

Fastest Firing Rate

Shoots 15 Balls Per Sec
Integrated Bolt System
Price: $$$

Check Price

2. Azodin KP3.5 Kaos Pump

Pump Action

Easy To Pump
Precise & Quiet
Price: $$$

Check Price

3. Tippmann TMC MAGFED

Most Versatile

Use With Hoppers Or Magazines
Authentic AR Look
Price: $$$

Check Price

4. Azodin Blitz 3

Super Lightweight

Low Profile Design
Good For Beginners
Price: $$

Check Price

5. Tippmann US Army Project Salvo Sniper

Long Range

True AR-14 Feel & Look
Sniper Option
Price: $$

Check Price

6. Tippmann 98 Custom Platinum Series

Most Affordable

Semi-Automatic
User-Friendly
Price: $

Check Price
1. Tippmann A-5
A paintball marker that I find truly delightful and satisfying is the Tippman A-5. One thing that I think sets it apart from the rest is its unique integrated bolt system. Such a system also has a durable aluminum body, which also boasts of its nice and smooth black finish, making it good to look at.
Aside from the fact that this paintball marker is offered by the highly reputable and trusted brand, Tippman, I also enjoy the customizable nature of this product. I find it easy to customize using various components and equipment, thereby giving the opportunity to improve the gun even further with improved parts.
It is an affordable paintball marker, which perfectly suits scenario play and woodsball. Also, note that it also takes pride in its high quality driven barrel, which is around 8.5-inch in size. It also has a low-profile hopper. This specific paintball marker also boasts of its multiple versatile features, one of which is the reinforced cyclone feed system.
Another great benefit of this paintball marker is that it is capable of firing at a speedy rate, around 15 balls every second. It does so without needing any batteries. Furthermore, it has a smart mechanism, making it capable of withstanding an intense firing velocity.
Switching from the safe to the firing mode is also easy with the built-in 2-position external selector.
However, it lacks a response trigger, which some consider as a disadvantage.
Pros
Features a unique integrated bolt system
Showcases a nice and smooth black finish in its aluminum body
Customizable using better and improved parts
Ideal for scenario play and woodsball
Fires at a speedy rate
Cons
Does not have a response trigger
---
2. Azodin KP3.5 Kaos Pump
Another great choice for the best paintball gun under 300 is the Azodin KP3.5 Kaos Pump. What I am so impressed with this paintball marker is its pump style, which also showcases an easy yet speedy pumping action. I noticed that it is capable of maintaining the stability of the pump with the aid of the dual-pump or cocking rods.
Such rods are also helpful in creating a more secure and smooth feel as you make each pump. The marker is also designed in such a way that it can deliver an excellent and refined performance. The simple pump design makes it user-friendly for beginners while still delivering the performance and precision expected by most experienced pump players.
The gun is available in several unique colors, giving you a few choices and letting you pick one that is really suitable for your taste. The overall design of this paintball marker is also combined with great ergonomics, making it much easier and more comfortable to hold and carry around.
Furthermore, I am impressed with its ability to lower its operating pressure with the aid of its ZeRO assembly as well as its acoustic bolt. With its low operating pressure, you have a guarantee of its preciseness and quietness. Also, I am pretty sure that you will like the improved efficiency and accuracy of this paintball gun.
One possible issue that you might encounter in this paintball marker, though, is that it is quite prone to breaking a ball or double feeding in case you pump it twice prior to shooting.
Pros
Promotes an easy and speedy pumping action
Provides a secure and smooth feel
User-friendly without compromising its performance and precision
Available in several unique colors
Easy to hold with its great design and ergonomics
Cons
Prone to breaking a ball or double feeding when pumping it twice prior to shooting
---
3. Tippmann TMC MAGFED
Another paintball marker that I will surely recommend is the Tippmann TMC MAGFED. It lets users enjoy everything related to the paintball sport in just a single package. What I definitely like about it is that it provides me with the chance to accessorize and customize it.
In other words, it provides unique options applicable to your preferred game. It also showcases the combination of functionality and reliability, making it a perfect option for those in search of the best marker under $300 currently offered in the market. One benefit I truly love about it is its versatility.
I find it versatile in the sense that I can use it together with either a hopper or magazines. The package also comes with the hopper adapter, thereby ensuring that you will not have a difficult time installing it. It is also lightweight and such benefit is noticeable the first time you pick the gun up.
It also takes pride in its built guaranteed to be of top-notch quality. In addition, it has comfortable ergonomics as well as great magazines. This complete pneumatic marker is definitely here to stay in this industry. With the high-performing in-line bolt system integrated into this gun, I am sure that you will enjoy using it in your games, too.
Another thing that it takes pride in is it gives an authentic AR feel and look. The built-in charging handle is also fully functional.
One disadvantage, though, is that the included sights are not height-adjustable.
Pros
Customizable, giving you the chance to accessorize it based on your preference
Versatile as you can use it either with a hopper or magazines
Lightweight and not difficult to install
Boasts of its comfortable ergonomics
Guarantees an authentic AR feel and look
Cons
Not height-adjustable sights
---
4. Azodin Blitz 3
I also urge you to check out the Azodin Blitz 3 electronic paintball gun as it is one of the best-performing paintball markers in the market today. Offered at below $300 while still retaining its excellent quality and performance, I am sure that you will never regret your decision to invest in this paintball marker from Azodin.
I also realized that the Azodin Blitz 3 is one of the most lightweight guns designed for paintball that you can ever find. The lightness of this gun makes it truly a pleasure to use. It is supportive of your battles while also promoting ease in carrying it around due to its lightness. It lets you move freely, too.
It works efficiently, especially for paintball beginners. What I am so delighted about in my Azodin Blitz 3 review is that it does not only give you a gun but also other equipment and tools you need. These include the anti-fog paintball mask as well as around 140 round pods – both of which you can use during the game.
The low-profile lock feed neck of this paintball marker is also considered by many as a big advantage. It is mainly because it promotes ease in doing some maneuvers. Also, it features a compressed tank as well as a kind of paintball hardness that promote highly accurate shots each time the trigger is pulled.
One issue that you might encounter once you start using this paintball gun is the somewhat rigid feel. The package also lacks clear instructions on the proper use of the gun.
Pros
Reasonably priced while still retaining its good performance and quality
Works efficiently for beginners
Comes with most of the tools and equipment you need to make it work
Easy to maneuver, thanks to its low-profile lock feed neck
Guarantees highly accurate shots
Cons
It feels a bit rigid when you are holding it.
---
5. Tippmann US Army Project Salvo Sniper
I also highly suggest checking out the US Army Project Salvo Paintball Marker offered by the trusted brand, Tippman. I noticed that it works really efficiently for military simulation. It is also suitable for potential players who wish to get involved in firearms training simulations. However, note that even average paintball players can also use it.
One thing that instantly got my attention in this paintball marker is its cool look. It boasts of its inline built system as well as an all-aluminum cover – both of which enhance the durability and performance of the marker. Aside from its reliability, I am also impressed with the gun's dexterity.
Overall, it is designed to function and look like a true AR-14. As for the stock, expect it to have around 6 foldable positions, giving you a convenient seat on your shoulder regardless of the situation. It also has fully functional Picatinny rails.
It should be noted that the Project Salvo has the same level of accuracy and speed as some other paintball markers that are in a similar price range. What makes it different, though, is that it tends to shot quietly. It claims to have a range of more than 50 feet.
Furthermore, it is a versatile piece of paintball gun, too, allowing you to use it not only in military simulations that involve team tactics but also in woodsball.
One drawback, though, is that it is quite challenging to upgrade and maintain because of the features built into its external design.
Pros
Ideal for military simulations as well as for average players
Promotes a high level of durability and dexterity
Designed to work and look like a true AR-14
Comes with an excellent range
Highly versatile as you can use it in a wide range of applications
Cons
A bit challenging to upgrade and maintain
---
6. Tippmann 98 Custom Platinum Series
Lastly, I would like to recommend using the Tippmann 98 Custom Platinum Series Paintball Gun in all your next paintball adventures. I am pretty sure that just like how it offered me utmost satisfaction, this paintball marker from Tippmann will also impress you with its reliable and excellent performance.
This is a semi-automatic paintball marker, which is actually very easy to use. Despite its user-friendly design, I think that it still performs reliably. What I find more advantageous about this paintball marker is that it is easy to upgrade. This means that you can add your own taste to the overall function and appeal of the gun.
You can even quickly and easily access the internal components of the paintball marker for ease of installation in case you would like to modify or upgrade it. It is mainly because of the split receiver design used in its overall construction. Adding a carry handle as well as scopes and other modes is also easy.
It is because of the Picatinny rail that you can find on top of the gun. Considering its affordable price, this paintball gun does not also disappoint in terms of its accuracy. It is highly accurate, giving you an edge on the paintball field.
Furthermore, you have an assurance that it minimizes the risk of paint breakage because it uses the anti-chop technology. However, some users say that it is quite heavy, which is its flaw.
Pros
Easy to customize and upgrade based on your preference
Features a user-friendly and reliable design
Upgrades and modifications are easy to install
Promotes ease in adding a carry handle
Affordable and highly accurate
---
7. Empire Mini GS
Many consider the Empire Mini GS Paintball Marker as a legend in the paintball industry considering its numerous positive features and benefits. I think one thing that makes this paintball marker/gun so popular is that it has a higher level of accuracy and a better design than its previous version.
It features a mini and wrapped battle-proven engine. I also noticed that it can protect its engine as well as its other parts from paintballs with the aid of its foregrip. The built-in foregrip is also a huge advantage as it significantly increases your confidence and strength while you are on the paintball field.
Another nice benefit I figured out upon using this marker is the fact that removing its hopper or tank is hassle-free. It actually works as an electro paintball gun, which boasts of a simple design. Sold under the $300 price range, this gun boasts of its ported 12 barrel. I also discovered that it is one of the lightest guns in the category.
It has a cool feed neck design, too, making it look simple and feel compact when carried on your hand. It also makes use of highly durable metal tabs designed to improve its firmness. Furthermore, using this gun allows you to activate its multiple firing modes, making it possible for you to shoot your enemies.
Since it is easy to use, it is also suitable for beginners in paintball. Check out our full review of the Mini GS here.
However, some users find this paintball marker too ordinary while also being slightly inconvenient since operating it still needs the use of a battery.
Pros
Provides a better accuracy and design than its previous version
Comes with a foregrip to protect the engine and the gun's parts
Compact and lightweight design without losing its durability
Promotes a hassle-free removal of the hopper or tank
Easy to use for beginners
Cons
A battery is still needed for its operation.
---
8. Dye Precision Proto Rize
Another gun that is often recommended in many fair and legitimate paintball gun reviews is this Dye Proto Rize Paintball Marker. I am one of those who is really impressed with the overall performance of this marker. I figured out that it works effectively as an ideal entry-level paintball marker below $300.
Note that it is designed as an electro paintball marker. It works well for tourney play/tournaments considering the fact that it has 4 modes. I am so pleased and satisfied with the quietness and smoothness of its spool valve technology, too. It even boasts of its ability to shoot straight and in a speedy manner.
Another thing that I am sure will satisfy the majority of the users of this paintball gun is the quality of the materials used in it. It has a fantastic look because aside from its spool valve, it also features a well-designed clamping feed neck as well as a smooth bolt system with a low psi.
The lightness of this paintball marker is impressive, too. It is lightweight enough that using it will never become that hard for you. In addition, gripping the marker is totally comfortable because it comes with a good handle. Holding it in your hands is also not that hard because of its sticky and ergonomic grip.
One downside that you might complain about when you start using this paintball marker is the plastic material used in its feed neck. It is because plastic is less durable than other materials. Rest assured, though, that such material will never greatly influence the overall performance of the marker, especially once you are in a battle.
Pros
Works effectively as an entry-level paintball marker
Can handle tourney play or tournaments
Can shoot straight and speedily
Fantastic and lightweight design
Easy to hold because of its ergonomic grip and the built-in handle
Cons
Uses the less durable plastic material in the feed neck
---
9. D3FY Sports D3S
If you are searching for a truly reliable paintball marker under $300 that is definitely worth the investment then the D3FY Sports D3S definitely fits the bill. This marker has a simple yet fantastic look, which allows it to suit your battles. It makes use of aluminum and plastic material for its construction, making it user-friendly and lightweight.
I think it is a good beginner electronic paintball gun because it is not that complicated to use. I like the low psi spool valve of this paintball marker, too. It provides up to 11 firing modes capable of supporting fun battles. You do not also need to utilize additional tubes and fittings because it already comes ready with OFF ASA and RSE ON.
It has a Ronin board, too, which works in instantly notifying you in case there are changes in the life of the battery. One more pleasing fact about this paintball marker is that it has highly unique ports that work in significantly reducing the specific amount of air used when firing the paintballs.
It has an adjustable trigger, too, which many consider as a big advantage. You can also expect this to be the ultimate solution if your goal is to use a gun with an accurate and smooth shooting capability. I am also happy with the laser system red optic integrated into this marker as it can help ensure that your paintballs stay find inside the chamber.
However, some complained that the trigger of this paintball gun is quite awkwardly and uncomfortably positioned.
Pros
Lightweight, thanks to its aluminum and plastic construction
Not complicated to use
Provides several firing modes to ensure that you will enjoy fun battles
Offers notifications regarding the life/status of the battery
Comes with an adjustable trigger to meet your preference
Cons
Comes with a slightly awkward and uncomfortable trigger
---
10. Empire Paintball Slice G36
Another paintball gun that instantly captured my attention is the Empire Paintball Slice G36. I instantly noticed this paintball marker considering the fact that it replicates the real-life guns that the marines use. I find its electronic grip frame a huge benefit, too, because it fires quickly. With that, taking out your competition quickly is possible.
If you are one of those who love scenario games then I am sure that this paintball marker will fit your preference. I am impressed with the cool and authentic styling integrated into this product. I also realized how easy it is to maintain it after I started using it myself.
You will also find it useful in case you want to take part in close-quarters battle. It is mainly because the process of field stripping it does not require the use of any tools. The same goes for its folding stock. I am also pleased that the manufacturer used a top-notch quality Picatinny rail. It is because I find it useful for carrying the gun with ease.
Another advantage is that it is easy to maintain, thanks to its slice hinged body system, which tends to open up for that purpose. I am sure that you will be satisfied with the fact that most of the features and things you need to make this paintball marker work to your advanced are included.
These include the adjustable trajectory barrel, mode grip frame, force-feed loader, and an electronic frame, which boasts of multiple firing modes.
However, take note that it is heavier than other paintball guns under $300 that you can access in the market.
Pros
Quick firing ability of the electronic grip frame
Works well for scenario games
Features a cool and authentic styling
Easy to maintain and use
Comes with all the features and tools to operate it with ease
Cons
Heavier than other paintball markers
---
What To Look For When Buying A Paintball Gun Under 300
---
You actually have plenty of options for the best paintball gun under $300 in 2023. However, despite your numerous choices, you should avoid making your choice in a rush. It is still necessary to be wise and smart when you make your decision. Be a well-informed buyer of the best cheap paintball gun with the help of these factors:
Material
One key factor that will determine the quality of a budget paintball gun is the material used in its overall construction. What is good about this type of gun is that it is not totally dangerous. Most of them are constructed out of plastic material, too. You need to check the quality, durability, and strength of the gun prior to buying.
Also, ensure that the material used is not too heavy to minimize the risk of it blocking your movements once you are already on the paintball field. The material should be solid and high in quality without causing its price to get too high.
Styles/Types
It is also advisable to familiarize yourself with the common styles and types of paintball guns that are below $300. One style available for you is that, which is appropriate for woodsball. This type of gun comes with a simple design. It is also often big and mechanical.
You can use this gun if you wish to play the paintball game in a speedball or an organized field or in the woods. What's good about the woodsball gun is that it is both accurate and efficient. You can use it for long playing periods. In addition, it is suitable for long shots.
You can also choose the speedball gun. This type of paintball gun is usually designed for high-speed paintball. It works fast and can shoot several shots in just one round. As the name suggests, it specifically works for speedball players.
You can also pick guns designed for scenario games, especially if these are the types of paintball game you are interested to participate in. It is possible for you to use this gun in any scenario game that tends to last for several days or weeks. It is quite similar to the weapons used in the military. The gun is also solid and has an identical design to real guns.
Shooting Power
If you are interested in the paintball game then you want your paintball gun, no matter how affordable or budget-friendly it is, to have excellent shooting power. That is why you really have to figure out which among the guns introduced to you can provide such benefit.
Look for a paintball marker or gun that can shoot even a distant target accurately. It should also work fast. In this case, check out the specifications of the product prior to buying. This will surely give you an idea of the shooting power and capacity of your chosen paintball marker or gun.
Weight
You also have to figure out whether the paintball gun you are eyeing to buy is heavy. Note that its total weight has a huge say on your overall performance. If it is too heavy then you might find it difficult to move or carry around.
Go for one, which features a lightweight design. If possible, it should only be around 3 lbs. or less. Also, ensure that it is completely comfortable to use.
Customizable
Find out whether the gun is customizable, too. Keep in mind that different paintball players also have various preferences in terms of the guns they use. In this case, you need one that you can easily customize. It should be customizable in the sense that it is capable of adapting to various scenarios that might occur within the game.
Aesthetics
Aside from its overall functionality, it would also make sense to find a paintball gun with the most attractive and coolest look. If possible, choose one with a tactical look.
Aside from giving you the kind of feel that you are in a war game, the tactical aesthetics of the gun also makes it possible for you to camouflage once the game starts. With that, your opponents will surely find it difficult to find and spot you.
Firing Rounds
You should also examine the number of rounds that your chosen paintball gun can fire within a minute. Make it a point to pick a gun capable of firing several paintballs every minute.
It is a major help, especially if you have several opponents whom you wish to defeat. As a general guideline, you will know that the gun is good enough if it is capable of firing a minimum of 12 rounds every minute.
Fit And Position
You can also choose the best paintball gun if you decide to look for one, which can offer a comfy grip. It should be capable of fitting nicely around your shoulder. That way, you can comfortably carry it around while still moving with ease.
The fit and position of the gun should both be designed for your comfort. You would not want a gun that is totally uncomfortable as it might only cause distractions in the field. It can also ultimately hamper your performance. With that in mind, spend time checking the fit and the comfort level of the gun prior to buying.
Based on all the factors mentioned, the best paintball gun, which is below the $300 price range is that which plays a huge role once you are already on the paintball field. It should give you comfort once you are shooting it. Furthermore, it should be handy and lightweight yet heavy-duty and super accurate.
Frequently Asked Questions (FAQs)
---
Can I use a paintball gun in a paintball tournament?
It actually depends on the type of paintball gun you are using. It is because while there are those that are designed only for leisure and fun, you can also find paintballs under $300 that are designed for tournaments.
In this case, the ideal paintball gun that you can use in a tournament is one with separate modes that are specifically meant for tournament specs. You can set the modes with the aid of electro guns as this means that the required modes are already programmed into your chosen paintball gun.
What does the paintball gun come with?
The specific inclusions in a paintball gun are actually dependent on the specific package you choose to avail of. In most cases, paintballs costing under $300 come in various package deals together with masks, tanks, and other important gears. Go for these packages if you are in search of a complete setup and the best deals.
Also, the ideal competition paintball gun packages deals often include not only the gun but also the mask and hopper. You can also find packages that include a high-pressure air or Co2 tank.
Depending on your chosen package, it is possible for you to obtain a brand new, fully automatic, and high-powered tourney-style gun as well as top-of-the-line gears and accessories at a lower cost than when you separately buy the parts.
Is the paintball gun good in woodsball and speedball?
Yes, you can already use the paintball gun sold under $300 for woodsball and speedball. In fact, you can already get starting paintball gun packages at around $150. Just ensure that when you are buying, the one you choose perfectly suits the game you intend to play.
For instance, if you wish to play woodsball then make sure that the paintball gun under $300 you have chosen has features that make it suit that game. If you are planning to play speedball then ensure that you go for a speedball-oriented gun.
Conclusion
With the numerous paintballing products available today, finding the best paintball gun under 300 is no longer that difficult. You can already find affordable paintball guns that are of top-notch quality. By choosing these woodsball, paintball, or speedball guns under 300, you can give yourself a whole lot of fun by taking part in the game.
At Get Real Paintball, you can learn more about how to choose the best paintball markers, and we even narrowed down our choices to the best paintball guns under $200 if you're on a tighter budget.
Last Updated on October 28, 2022