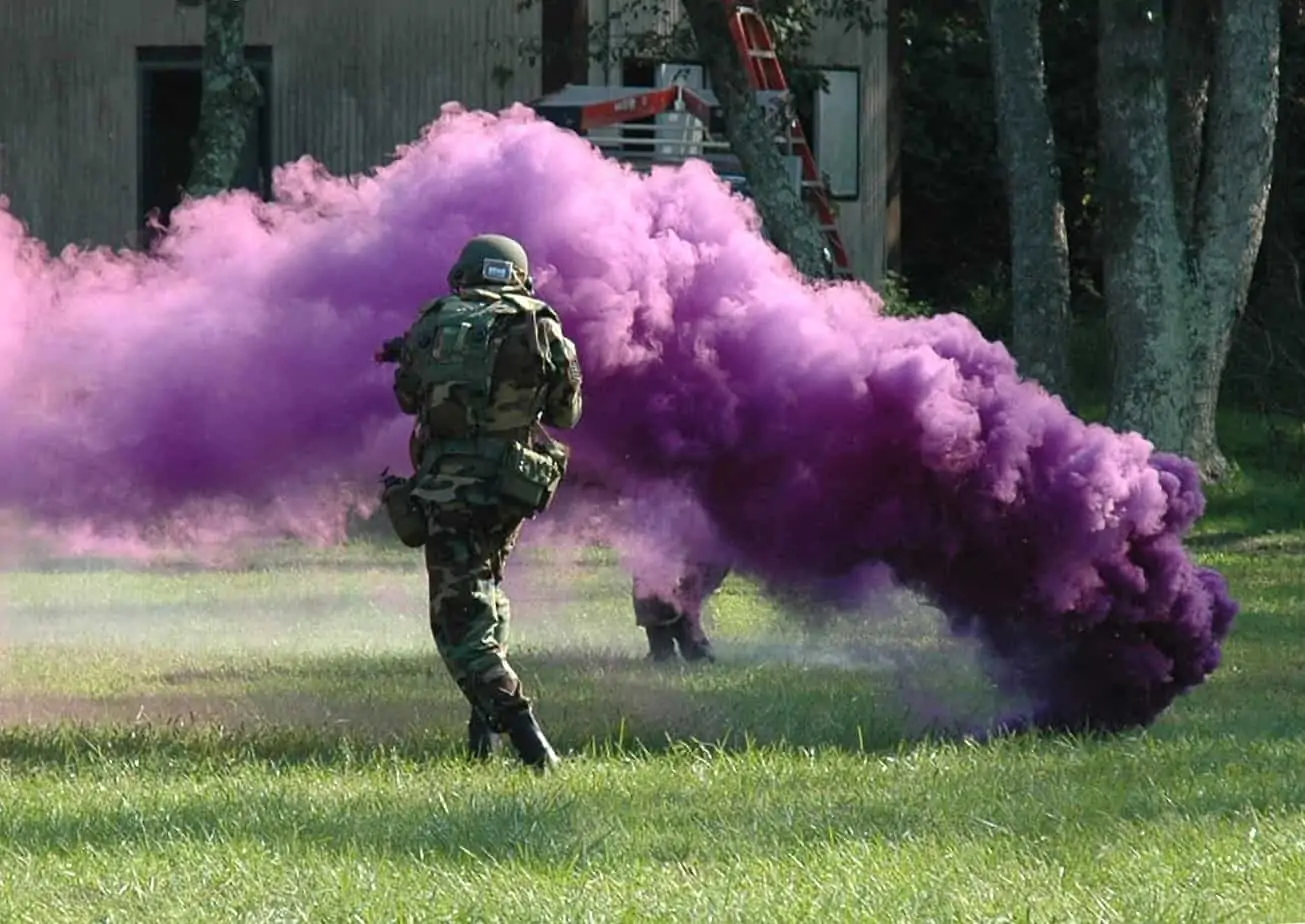 Before we go on exploring our options, let me just steal this moment to tell you what a paintball grenade is and how it works. The name is a bit misleading:
Paintball grenades don't explode, at least they shouldn't.
While the best they can do is splash paint on opposing players with them, these grenades are a useful asset in the sport. The future of paintball grenades seems bright and many have predicted that their use will become widespread soon enough.
Even today…
Scores of paintball groups double up the fun in their gaming sessions with paintball grenades. In this article, I will share some of the best paint grenades with you, and show how they can turn the tide of battle for you!
My favorite from the lot is BT Paint Grenade M12 which can spread chaos in the ranks of the opposing team, but I have also listed other impressive models for you to try out as well.
Rundown: Best Paint Grenades For Dominating Your Opponents
Here are my favorites:
1.
BT Paint Grenade M12
– Best Overall
At the top of my list is the BT Paint Grenade M12, the bigger of the two cousins: M8 and M12. In case you were wondering why it is called M12, that's because it weighs 12 ounces. It may not seem like much but this bad boy packs a serious punch.
Filled with a bright RPS paintball fill, this grenade can become a handy asset in any intense paintball duel. Their effective range is about 30 feet, and that's pretty much how far you'll be able to throw anyway. Once the grenade lands, it will spin and spray the paint stored inside.
The best part about its action is the spray radius which is broad enough to take down several players at once. If done right, a single throw will give you a competitive edge by sending a wave of panic through the opponent's ranks.
A hit will also cost them some precious points which will make it easier for you to claim victory for yourself. Alternatively, your opponents might see you sending your grenade their way. Not to worry though, it won't be a waste.
Just let them panic and run, while you concentrate on the shooting! 😉
All in all, the M12 is not only an effective paintballing accessory but, if employed correctly, can help you finish the game much quicker.
Best of all: the constituents are non-toxic and biodegradable.
Features
The grenade weighs about 12 ounces.

It contains biodegradable and non-toxic components.

It does not explode or scatter bits and pieces.

The effective range is 30 feet.
Pros
It is very easy to use.

You can take out multiple players with just one, well-placed throw.

The paintball fill is bright enough to be spotted from afar.

The pin mechanism is not all that hard to understand, just pull and throw.
Cons
For some, it may be a bit bigger than what they might be comfortable with.
Verdict
Overall, I must admit that the M12 from BT is undeniably the best paintball grenade on my list, owing to its effectiveness on the field and the reliability of its action.
---
2.
Tippmann Big Boy Paint Grenade
– Best Mid Weight Option
To any paintball aficionado, it should come as no surprise that this list includes an option from Tippmann. Being a leading brand in the paintballing industry, Tippmann has rightfully earned its place among the aces on any paintball gear list.
And, this paintball grenades review roundup is no different.
Pardon me for the flattery: big fan, can't control! 🙂
Speaking of big things, the 'Big Boy' from Tippmann is aptly named as it does carry a strong enough punch to flush out even the most stubborn paintballer from their cover.
If you manage to sneak one past their lines, expect a mega panic wave amidst the opposition ranks. Apart from an impressive 30 feet effective range and non-explosive body, the Tippmann Big Boy Paint Grenade also boasts a realistic look.
Of course, no one will mistake it for the real deal but it will be realistic enough when you let it fly, and yell at the top of your lungs: "fire in the hole!"
Psst! Just a pro-tip: if your opponents know that you are carrying some grenades, giving out a fake "fire in the hole" or "bombs away" call may get them to leave their cover – just saying.
The pin system is more or less the same as with the previous model, the only major difference, in this case, is that the bomb is a bit lighter: weighing in at 10 ounces.
Overall, it is a decent tool for spicing up your paintballing session and delivering the type of competitive edge that is sure to keep you on top of your opponents.
Features
Based on a pull pin system.

The grenade does not explode but rather sprays its paint when thrown.

It weighs 10 ounces.

It can cover an effective range of 30 feet.
Pros
The weight is not all that much, making it perfect for longer throws.

It is very simple to use.

The range is satisfactory.

Manufacturing quality is impeccable.
Cons
It is a bit longer than the other options mentioned on this list.
Verdict
Overall, the Tippmann Big Boy Paint Grenade has earned its place among the best paintball grenades by being as versatile and effective in performance as it is.
---
3.
BT Paint Grenade M8
– Best Budget
Does this entry even come as a surprise? The BT Paint Grenade M8 carries the same punch and exhilaration as its bigger cousin, only in a smaller package. It works out for the best, considering that it is much lighter in comparison: only 8 ounces in weight.
The company markets the product as "battle-tested," and while I don't know exactly how they evaluated it, I, for one, am impressed by its performance. There's nothing complicated to it: just pull the pin and throw – that's it.
Better to give your teammates a heads-up first, just in case.
If thrown properly, the grenade can easily cover a distance of 30 feet and spray its contents all over the impact zone. Since it spins and sprays at the same time, you can use it to target multiple opponents at once, especially if they are huddled close together.
Its lightweight body also makes it perfect for quick throws in case you need to cover your retreat. Don't you worry about the contents either, as, with its bigger cousin, this grenade is also packed with a bright, non-toxic, and biodegradable RPS paintball fill that will be visible even from afar?
Meaning that if your opponents do get hit, there won't be any deniability later on.
Features
The contents are perfectly safe and don't pose any health or environmental hazard.

The grenades are loaded with an RPS paintball fill.

A single unit weighs about 8 ounces.

It uses a pull pin mechanism.
Pros
The appearance and feel are both very realistic.

It is very amusing at times, especially when it sends waves of panic in the opposition ranks.

The paint splattering effect is very powerful, your opponents won't be able to escape it.

It is perfectly lightweight.

It is very affordable.
Cons
It does not carry as much paint as its bigger variant.
Verdict
The M8 is just as impressive as its bigger cousin, and though it is smaller in size (but also more affordable), it is just as helpful in the field and even better when it comes to the throwing range. I would easily brand it as the best paintball grenade for those on a tight budget.
---
What Sets Apart The Best Paintball Grenade?
The paintball grenades review roundup above details my all-time favorite products, but there's an ocean of paintball gear in the market, and it is only natural for you to want to explore it further.
But before you go all ninja with the Google search bar, may I steal a little bit of your time to hand out some very valuable advice?
I highly recommend that you check out the following headers to understand your product better and make an informed decision:
Range
Most paintball grenades have an effective range of around 30 feet, and you should never settle for anything less (give or take 5 feet). Paint grenades will hardly go much beyond this 30 feet range because it is you, who'll have to throw them.
When it comes to range though, you can't compromise, because unless you can throw your grenade at the opposing team from a safe distance, it is no use carrying them in the field. And that brings me to another related point: weight – heavier grenades are harder to throw.
You'll have to try out a few throws before you can pick a product but it will be worth it in the field as paintball grenades can be a valuable asset if used properly.
Capacity
To counter the last point, I can't stress enough that lighter is not always better. You should pick an option that you can throw perfectly, if 12 ounces is okay for you so be it. Don't go lighter if you can manage to land the projectile several feet away.
Because bigger grenades are also packed with more paint.
I know, this may seem a bit overwhelming, and I understand if it feels that way, but I don't mean to self-contradict. My point is very simple: find a balance.
Non-Toxic & Biodegradable
Most paintball ingredients are non-toxic, with food colorings being the prime pigments for paintball ammo and grenades. But you should still ascertain that the product you're about to buy carries a label stating that it is non-toxic.
If that's not the case, check it out with the manufacturers. Moreover, the constituents should also be perfectly biodegradable, meaning that they should decompose into simpler materials over time. If that's not the case, they will become an environmental hazard.
Thankfully, most reputable manufacturers see to it that this is the case.
Affordability
Don't go cheap but don't dole out your cash either. Instead, find a balance to get your hands on something that does not disappoint but not something that you'd want to cling onto like that little elf from Lord of the Rings who keeps on saying "my precious."
Learn to manage your budget better and develop some spending rules so that you can save up for a rainy day – or better yet, for your retirement fund (yup, the time to start is now!)
Home-made VS Commercial Products
Would I blow everyone's mind away if I said that a home-made grenade can be better than what you may find online? I guess so, but there's a reason why I believe this.
Given that you're willing to put in the time, effort, resources, and dedication to make a bunch of paint grenades at home, you're better off with these home-made options. Of course, there are a series of steps to follow and if you mess up, it would've all been for nothing.
Your choice…
But I say so only because you can tweak a self-made grenade according to your preference and hence maximize its usability. Of course, if you value standardization or don't feel like spending hours on a DIY project, you're better off with a market product.
Since we're near the end, how about learning a bit about the basics? This short but super-helpful YouTube details how you can become better aware of the paintball field:
Bottom Line
The products I mentioned on this list are my favorite because they worked excellently for me and helped me win many rounds for my team.
My top pick is the BT Paint Grenade M12, but the others mentioned on this list are just as well, with slightly differing specifications.
If you feel like getting another product, or better yet, building a paintball grenade by yourself, just make sure that your choice can ace all the parameters I have mentioned above.
That's all from my side, folks, let's hear from you in the comments section below!
Last Updated on October 28, 2022