If you're reading this, you figured it's high time you upped your firepower. So, you're in search of the best automatic paintball gun to get the job done.
And perhaps… 
You want one to participate in an upcoming scenario event. Or just want the thrill of a realistic full-auto paintball rifle in action.
Some models fire as many as thirty balls or more balls per second, leaving a trail of paint in the wake. But that's not always acceptable. In that gcase, you'll need an automatic marker with selective fire or ramping capabilities.
Shockingly, they conserve air efficiently and even reduce the amount of paint you expel in the long run.  We came up with an encompassing list of fully automatic paintball guns after putting these features into consideration.
If you are in a rush, our top pick is the Empire Axe 2.0. It's suitable for any skill level. And you don't have to break the bank for it, considering the price of competition or better markers.  
The 5 Best Automatic Paintball Guns Reviewed
1.
Empire Mini Axe 2.0 Marker
– Overall Best Automatic Paintball Gun
The Empire Axe 2.0 is a gem of many automatic paintball reviews, including ours. And it's not hard to see why.
It weighs only six pounds but is built with indestructible aluminum steel. You shoot at close range or adopt a stealthy style of play effectively with such weight.
More importantly, it shoots quietly, even for a full-auto paintball gun. This, coupled with its range and accuracy, makes the Axe 2.0 an ultimate weapon. It's no surprise, it uses a two-piece barrel.
You can switch between all types of firing modes using the shockwave board. This includes semi-auto, burst, ramp, and full-auto mode. Take things to the next level when you install an OLED board on the foregrip – no waiting for blinking lights when you switch modes.
For all its abilities, it's easy to use and maintain, unlike most top-rate guns. It has break-beam anti-chop laser eyes that prevent paint from breaking and distorting shots mid-game. You can degas with its on/off regulator without ruining the ASA thread. And you can remove the bolt for cleaning at the push of a button.
Its only flaw is it doesn't have a detailed user manual. You would have to watch YouTube videos or read guides, but not necessarily if you know your way around markers.  
Pros
Streamlined body for hassle-free handling  

Adjustable trigger 

Low-pressure operation saves gas

Consistently accurate shooting

Accepts Redline OLED board

Easy to take apart for cleaning 
Cons
User manual is not so helpful for a beginner 

Slightly inaccurate air gauge  
Takeaway 
The Empire Axe 2.0 would make a fine gun for even the most skilled paintball players. It shoots accurately and has all the features to improve your shooting experience.
---
2.
Empire Mini GS Paintball Gun
– Best Runner-Up Automatic Paintball Marker
The Empire Mini GS has an almost identical design to the Empire Axe 2.0 marker. They have the same ergonomics, sheer tenacity, and shooting accuracy.
The Mini GS shoots a maximum of twenty-three balls per second on full auto mode. You can switch through semi-auto, PSP, Mill firing modes with its shockwave board. The Mini GS is also compatible with an OLED board that makes operation fast and simple.
An on/off ASA switch is always welcome in a paintball gun. It saves you the risk of ruining the thread since you have to degas after every game.
The Empire Mini GS has a 12-inch two-piece barrel, which is precisely what you need for accuracy. But some players prefer a longer barrel. That said, the Mini GS shoots at 275 frames per second at first but can hit 293 frames when warmed up.
Enough said this marker is more challenging to clean than the Axe 2.0. You'll spend some minutes dismantling to lube or clean the bolt, and that's that.
Other than that, you'd love the Mini GS full auto paintball gun. Even though I'm not too fond of paperweight markers – I'm a big guy – it's n to aim down.  
Pros 
Easy operation

Impressive accuracy  

Compact and lightweight frame  

On and Off ASA  

Compatible with redline OLED board 
Cons 
Can be a chore to handle if you have big hands  
Takeaway 
It's the weapon of choice if you want a sleek automatic paintball gun for a competition or speedball. The same if you're only a casual scenario player too.
---
3.
Dye Rize CZR Paintball Gun
– Second Runner Up
The Dye Rize is a sleek marker that's often compared with the runner-up Empire Mini GS because of their similarities.
While it's cheaper than the Mini GS, it's not inferior and can compete with top-of-the-line guns on the field. Well, in the hands of a skilled marksman. But really, it'd make a great entry-level full-auto gun for competitions.
Regarding its handling, it has an ergonomic hourglass trigger frame design that fits comfortably. But I'd mention I don't like the macro line tube between the trigger and foregrip.
Cleaning the CZR is a walk in the park. You can take the bolt out for cleaning or greasing without dismantling the whole gun. Plus, it has sterling features like anti-chop eyes and color-coded o-rings that make it all easier.
The CZR is fitted with the famed Dye two-piece barrel that's known for shooting accuracy. You'd hardly need to upgrade the barrel unless you have pro-level tastes. This feature is perhaps where it edges the Mini GS marker.
On the flip side, quite some customers complained of gas or air valve leaks out of the box. It's mainly a quality control problem, solved when they return the defective gear.  
Pros 
Accurate shooting  

Doesn't chop paint  

Comfy grip

On and off ASA  
Cons 
Track record of manufacturer defects   
Takeaway 
It's a terrific paintball gun for casual speedball and woodsball players and considerably suitable for competitions.
---
4.
First Strike T15-A1 Rifle
– Best Mag-Fed Automatic Paintball Gun
First Strike T15 is royalty among mag-fed paintball guns. Out of the box, it's only decent but has almost limitless potential with its customization.
You can turn this baby into a hopper-fed marker if you want. The only thing is, the T15 barrel is twist-lock, not Autococker. And you may have to buy an adapter to use your barrels.
As it's still a mechanical marker, though, the T15 is not the most reliable. But the company has friendly customer service that's ready to solve any issue if it ever arises. Plus, you can only fire in full-auto or semi-auto mode.
As you can see, it's almost identical to a firearm, which is perfect for scenario play. It has a strong die-cast aluminum construction with only a few plastic components. It's also doesn't use batteries, which is the perfect combination you need to play in any weather and not damage your marker. 
Surprisingly, this realistic marker that looks like an M4 carbine only weighs four pounds. It's not the lightest, but it works for any playing style.  
In full-auto mode, it shoots between 5 – 20 balls per second. It's not the strongest, but players in the community love it anyway because it's mag-fed.  
Pros 
Solid aluminum construction 

Identical AR platform  

Shoots first strike rounds with increases range 

You can customize it to your taste  

Improved consistency in new models

Easy to handle for its size 
Cons 
Needs upgrades to be at its best  
Takeaway 
If you have as much as a shred of thought towards First Strike T-15, go for it, and you won't regret it. You can even join a community of owners on Facebook – "First Strike T15 owners" – to show off your marksmanship or ask questions.
---
5.
Valken M17 A2
– Budget Mag-Fed Full-Auto Paintball Gun
The Valken M17 is a full-auto paintball gun that resembles the AK117 in Call of Duty and the Russian AK107 in reality.
The A2 is a perfected version of the Valken M17 Blackhawk, which had minor issues in its operation.
This gun has mechanical wiring, so you don't have to worry about charging batteries. 
The M17 A2 is a full auto weapon using a mag-fed loading system. It has a switchboard to take it from safe, semi-auto, to full-auto mode.
The only thing is, it uses an AK-style magazine lever, which isn't bad on the surface but could have been faster and easier with an AR mag.
The stock setup has high accuracy and range for a paintball gun in its price range. Even better, you can turn it into a beast in your arena with a few upgrades.   
Lastly, if you don't fancy a mag-fed marker but like the functionality, you can convert it into a hopper feed. But I'm not sure they include the kit any longer. So you'll have to buy it separately.  
Pros  
Customizable 

Easy switch between full-auto and semi-auto firing  

Good deal for a carbine  

Fairs well in any terrain with good maintenance habits

Not so heavy for mag-fed rifle

Convertible to hopper feed 
Cons 
Mag rounds are sold separately  
Takeaway 
If you want a quality magazine rifle in your loadout and at the best price, consider the Valken M17-A2. It's rugged, accurate, easy to clean, and you'd be tagged as one of the "big boys" in the arena.
---
What's A Full Automatic Paintball Gun? 
A fully automatic paintball gun fires continuously at the pull of the trigger. To put it simply, you can fire as many thirty balls per second without taking your finger off the trigger.  
Just to spill facts, you should know:  
All electro-pneumatic or battery-powered paintball guns produced of late can fire in full-auto mode 

The first automatic paintball gun is the Tippmann SMG 60 

You can change the trigger frame or upgrade the circuit board of an old electric gun to install full-auto mode 
Types of Automatic Paintball Guns 
Automatic paintball guns can be broadly classified into two types:  
Mechanical

– use varying mechanical systems that reset/cycle after each trigger pull.  They are heavier than electrical markers because they function with more parts. It also reduces the rate of fire and increases cycle time. Their only advantage is they don't use batteries. 

Electro-pneumatic

– has a battery-powered circuit board to switch firing modes and open fire. It activates the solenoid valve, consequently firing shots without any mechanical action, which shortens cycle time after a shot and increases the fire rate.  
It wouldn't be helpful to go into technical details here, so we don't miss the review's point: finding the best automatic paintball gun.  
This tutorial video shows how you can convert any marker to full-auto! 
Is a Full Auto Paintball Gun Any Better Than Semi-Auto? 
First, a semi-automatic paintball marker fires one shot at a time. The best you can do is rapidly pull the trigger to increase firepower. But they also have a longer trigger cycle, hence, a slower fire rate.
However, a semi-automatic paintball gun is easy to maintain and definitely isn't as expensive as a full auto paintball gun. If this marker ever breaks down, you'd find replacement parts readily available.
On the flip side, a full-auto marker may force you to seek professional help, especially if you own one of the advanced electrical models. A Dye M2 marker, for instance, can charge wirelessly and requires updates once in a while. But not all electrical markers are this geeky.
Besides, you'd find only relatively easy-to-maintain models our automatic paintball guns reviews above. The most you'd have to do is change out batteries. And do some routine cleaning as you would with a semi-auto marker.
Moreso, players who start playing with cheap semi-auto guns end up upgrading as their skill improves.  Plus, to get started, beginners often love the idea of a full-auto marker but only go cheap first to test their devotion.
So, yeah, a full auto paintball gun is a semi-auto gun, and more, or much more.  
Are Fully Automatic Paintball Guns Allowed in Arenas?  
It varies depending on where you play.
Most arenas have a strict regulation to semi-auto firing only. But that's only at face value. This is because you can set an automatic marker to shoot rapidly (or full-auto) without cheating or breaking the rules.
Of course, there's a limit to how far you can do this, no matter how much you improve your marksmanship on the paintball field. In most cases, the bar is set at fifteen balls per second.
The trick is to learn paintball shot ramping. Then you're ready to join the elite force. Your arena or league would choose a specific type of ramping, like PSP or NXL, to easily track fire rate and bust cheaters.
Keep in mind only electronic full automatic paintball guns would give you the luxury to switch ramp modes. Mechanical full-auto markers, as far as I know, can only switch straight to semi-auto. But you can use full auto in scenario gameplays where there's no regard for a level playing field.
If you've ever heard a barrage of balls raining on your community field, the player is either ramping or slipped a few bucks to the referee.
How To Choose The Best Full Auto Paintball Gun 
Choosing the best full auto paintball gun also guarantees you get a quality semi-automatic paintball gun. Most have several firing modes, including semi-auto.
That way, you get your full money's worth and never have to change your weapon unless you get bored of it or need a backup. Here's a host of other factors you should consider before you go full-auto shopping.
Figure Out Your Playing Style 
Do you like to shoot from long range or bombard your opponents with a hail of shots at close range?
If you shoot from range, accuracy and control are important. But if you're a runner, mobility should be your priority, eye light paintball guns with your kind of spec. You'd be shocked how only a few extra pounds of weight on your marker can give you weary hands on the battlefield.   
Brand Reputation Matters  
I'm not a sucker for brands, but I'll admit that reputation matters when choosing paintball guns.  
You'd enjoy a solid warranty coverage, and more importantly, can find parts easily when it expires – Not only for repairs but for upgrades and personalization of your rifle.
You'll often find a community of owners should you ever need help with things like cleaning, ramping, or mounting attachments.  
Customization Options And Compatibility 
Intermediates and pros love the freedom to "build" their guns to taste. Sometimes, the stock parts won't be as powerful as you want, so you want the option to swap them out.
But while using a full-auto paintball gun, the thirst for power is fierce and personal. You may want iron or optic sights to improve aim or add a foregrip. Be sure the gun accepts attachments and is also compatible with anyone you have in mind.
Selective Fire  
Perhaps this should be the core factor to consider if you're not searching for a fully-automatic paintball because it's allowed in your arena or for a scenario game. 
As plain as it looks, it's critical. Find out if the marker can shoot in the fire mode you want. It's not only limited to ramping, burst fire could also be accepted.  
Ease Of Maintenance 
Last and definitely not least, buy a marker you can maintain. You should hold this piece of information dear if you're a newbie looking to buy your first beginner paintball gun.
It's easy to get carried away when you see a realistic paintball gun and not consider if you can clean up after all the fun. 
Don't be that guy. It's hard enough for most of us to make a habit of cleaning. So, find out if it's something you can handle.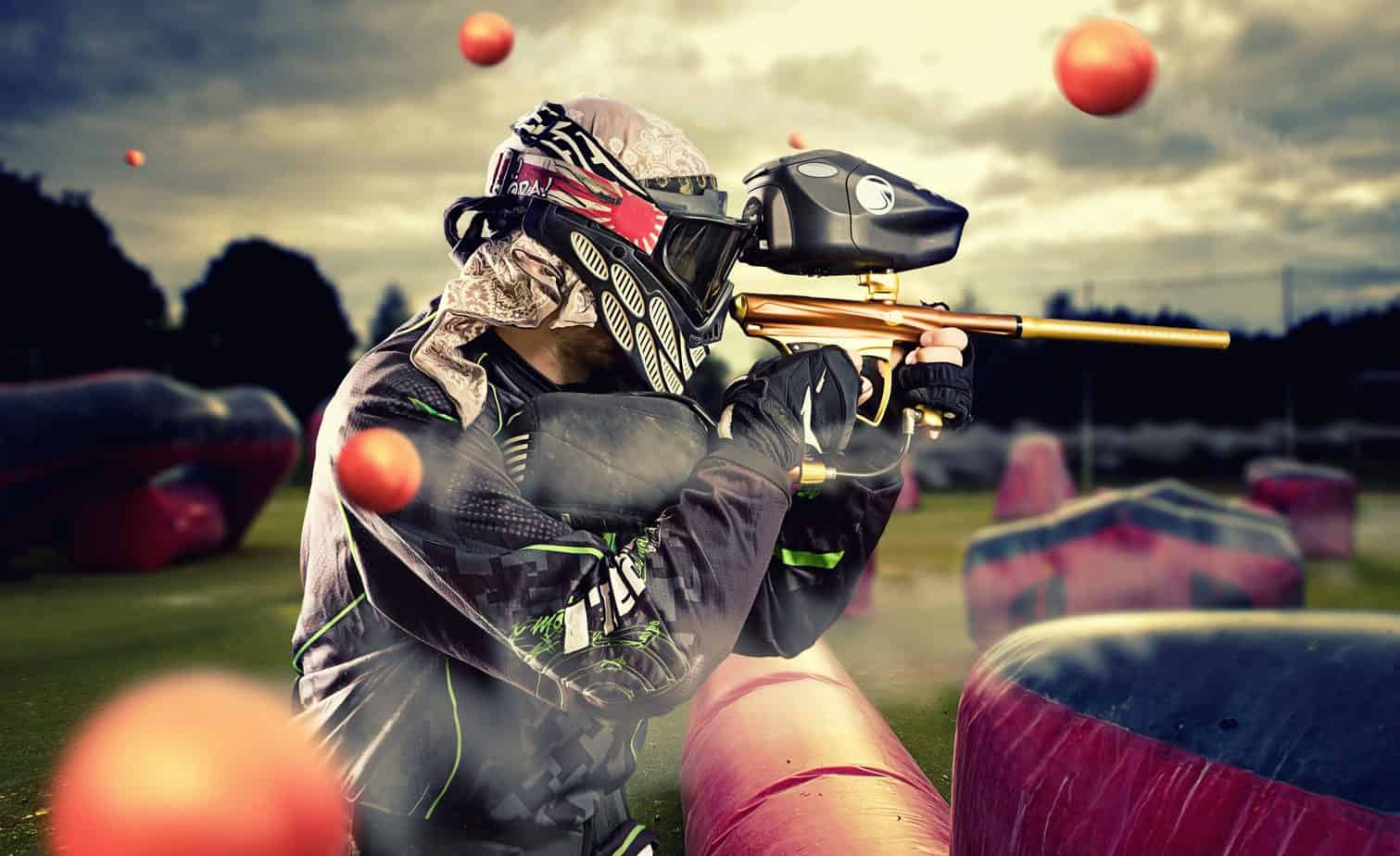 Final Thoughts  
The best automatic paintball gun isn't all about continuous fire. Be sure it's a marker you can handle and has the firing modes approved in your arena. Or if you want to play tournaments.
There's a big difference between full-auto and ramp shooting modes. You need to be able to use the latter for a complete weapon. However, if you're okay with a marker with only a full-auto and semi-auto, you'll also find options in our automatic paintball gun reviews.
If you indecisive, consider our top pick, the Empire Axe 2.0 marker – big brother to the equally worthy Mini GS. It's sleek, reliable, accurate, and the perfect gun for casual play or competitions. 
Last Updated on October 28, 2022