Whether or not you are a paintball beginner or a speedballing pro, you need the best equipment possible to give yourself an extra edge in the field.
…and that edge starts with choosing the best paintball gun you can get your hands on.
But here's the thing:
With 242 paintball guns on the market, it's no easy task.
That's why we've narrowed down the list to the 9 top-rated markers you should even consider for your next paint-lashing outing.
Look:
You don't want to be that guy who went cheap and has their (inaccurate) gun jamming up all the time.
So sit back, relax, and imagine yourself dominating your next paintball game—unlike your competition who was too lazy to read this 7,158-word guide…
Let's get crackin'.
Top-Rated Paintball Marker Reviews of 2023
Product
Details

1. Tippmann TMC MAGFED

Nearly Indestructible

Realistic AR-15 Design & Feel
Pneumatic
Price: $$$

Check Price

2. Empire Mini GS

Versatile, But Has Small Frame

On/Off ASA Switch
Smooth Trigger Pull
Price: $$$$

Check Price

3. Tippmann Cronus Basic

High-Impact Composite Body

Mil-Sim Style
Minimum Recoil
Price: $$

Check Price

4. Tippmann Cronus Tactical

Reliable & Accurate

Resembles M-16
Easy Maintenance
Price: $$

Check Price

5. Tippmann A-5

Rapid Fire Marker

Aluminum Die-Cast
Longer Front Grip
Price: $$$

Check Price

6. Spyder Victor

Excellent Performance

All-Aluminum
Lightweight & Compact
Price: $

Check Price

7. Planet Eclipse Etha 2

Highly Accurate

Sturdy composite Material
Adequate Grip Spacing
Price: $$$$

Check Price

8. Empire Axe 2.0

Poppet Engine Control

Adjustable Firing Modes
Smooth Operation
Price: $$$$

Check Price

9. Empire Paintball Axe Pro

Solid Frame But Slightly Heavy

Waterproof
Better Grip Fit
Price: $$$$

Check Price
1. Tippmann TMC MAGFED
The Tippmann TMC MAGFED is probably what you need if you are looking for the best paintball gun, which is more high-end. What I am most proud of about investing in this paintball gun is that it is capable of outshooting and outlasting its competition.
This gun actually falls under the pneumatic category, which means that it does not come with electrical components. While this means that it only comes with a semi-auto firing mode, I still find it beneficial because compared to some electrical guns, this one lasts longer.
I am also glad that it has an almost indestructible construction as it makes use of sturdy metal for its main parts. Some of the parts of this paintball gun that are constructed out of metal are the inner gears, the bolt, the trigger system assembly, and the frame.
With such construction and design, I am sure that those parts of this marker that use polymer will never hamper its overall performance. The used polymer material is also the high-grade type, which is the reason why it is truly durable and strong. It is capable of shooting under all conditions while maintaining its reliability and consistency.
Another remarkable thing about this gun is that it is capable of switching between a hopper and a magazine. Moreover, it can make you feel like you are holding a real AR15 rifle. It also boasts of its fully operational charging handle.
If you want to get more value for your money then consider getting the package version of this paintball marker, which comes with almost everything you need to operate it efficiently, including the hopper, anti-fog mask, harness, and round pods.
However, take note that this paintball gun is a bit complex and challenging to disassemble.
Pros
Sturdy metal construction on main parts
Longer-lasting than other electrical markers
Utilizes a strong, durable, and high-grade polymer
Features a fully operational charging handle
Simulates the AR15 rifle
Cons
Slightly difficult to disassemble
Overall, this is an excellent option if you wish to invest in Tippmann guns, especially those in the
best mag fed paintball gun
category.
---
2. Empire Paintball Mini GS
One product that leaves a lasting and positive impression on me is the Empire Mini GS. It is a popular paintball marker known for its efficiency and versatility. It is a great intermediate paintball gun, which you can get at an affordable price, making it truly cost-effective.
You can, therefore, invest in it if you wish to upgrade from your starter paintball marker. The primary design of this marker is actually for speedball but rest assured that it is versatile enough that it can also work for any other type of paintball game.
I am greatly satisfied with the ease involved in degassing the HPA tank of this unit because of the on/off ASA switch. With this benefit, I also realized that it promotes ease in tank removal, thereby preventing any damage to the O-rings of the gun.
This specific paintball marker is easy and comfortable to hold, too. I think it is due to its sleek and rubberized foregrip. It is also greatly possible for this paintball marker to promote a smoother trigger pull – that's all thanks to its self-lubricating trigger systems designed in such a way that it can minimize friction.
Furthermore, it gives you the opportunity to adjust the tightening grip surrounding the hopper's neck because of the presence of the clamping feed neck.
The main problem, though, is that it has a small frame size, causing slight discomfort to bigger and taller players.
Pros
An affordable choice for intermediate players
Highly versatile as you can use it for various gameplay
Easy and comfortable to hold
Guarantees a smooth trigger pull
Comes with a clamping feed neck
Cons
Slightly uncomfortable for bigger players because of the small frame
Despite that issue, this is still a reliable intermediate paintball gun as it is not only affordable but also built with high quality and performance in mind.
---
3. Tippmann Cronus Basic
The Tippmann Cronus Basic is also an ideal option for those who wish to take advantage of the best gun. What's good about this product is that it lets you gain access to its Cronus Paintball Gun Mega Set if you wish to take a hold of a package containing almost all the things you need to play the game.
Offered at an affordable price, I'm sure that you will be pleased to know that it comes complete with an anti-fog paintball mask, CO2 tank, paintball harness, round paintball pods, and round gravity fed loader.
As for the paintball marker itself, I can say that it is built well because it's capable of withstanding tough abuse in outdoor environments.
It works well not only for beginners but also for some intermediate players. Another impressive thing I noticed is its rigid composite construction, making it long-lasting. It looks cool and attractive as its body emulates the military simulation (mil-sim) style. It is built to be lightweight, too.
With such weight, it makes it suitable even for young players as well as those with poor endurance or who have a small stature. I also find the molded rubber grips integrated into the Tippmann Cronus helpful as such features promote ease in holding it.
Furthermore, it has an internal gas line designed to maximize the comfort of users while ensuring that the gun will move with ease even when dealing with tension-filled moments.
It is also designed to shoot well while making you feel at ease each time you fire it because aside from being easy to hold, it has minimal recoil.
However, take note that upgrades may still be necessary for the stock barrel if you want to boost the marker's accuracy.
Pros
Lightweight and long-lasting
Can withstand tough outdoor elements
Easy and comfortable to hold
Guarantees minimal recoil when firing
Works for young players
Cons
The stock barrel might need upgrades for better shooting accuracy.
To conclude, I can safely say that Tippmann Cronus still works as the perfect paintball marker, especially for players who are still beginners in the field.
---
4. Tippmann Cronus Tactical
I am sure that you will gain satisfaction if you decide to invest in the tactical version of the Tippmann Cronus.
I find it effective for beginners and intermediate paintball players who wish to target their opponents better and more accurately while they are on the paintball field.
I highly suggest that you also check out this product's 3Skull mega set if you want to ensure that you get real value for your investment.
It is because it gives you a set of most of the things you need to operate this tactical paintball marker with ease without having to purchase them individually or separately.
Some of the inclusions in the set are the mask, which also features an anti-fog lens and a visor, a black hopper, a CO2 tank equipped with a pin valve, a paintball harness, and heavy-duty paintball clear tubes.
As indicated in our Tippmann Cronus review, I'm pretty sure that you'll instantly see how good it is once you notice its high-quality features and benefits. It is a robust paintball marker, which actually looks cool because it resembles the M-16. It is totally lightweight without compromising its sturdiness.
One thing I really appreciate about this paintball gun is its reliability. It is reliable enough that you are assured of its accurate shots each time you fire it. I am glad that it is engineered in such a way that it becomes user-friendly, too. One more thing I like about it is that it requires the least maintenance while still ensuring that it lasts longer.
Opening and cleaning it up is also very easy. You will also find the Tippmann Cronus Tactical with plenty of customization options.
One issue, though is that the integrated barrel is a bit shorter than what some players initially expected.
Pros
Lightweight without compromising its sturdiness
Looks cool as it resembles M-16
Highly reliable and accurate shots
Easy to use and customize
Requires minimal maintenance
Cons
Shorter than expected built-in barrel
With the Project Salvo option out of stock, this is still the best paintball gun that suits most paintball players because it promotes ease and comfort while being lightweight and durable.
---
5. Tippmann A-5
I also suggest that you should check out the A-5, which is offered by Tippmann if what you wish to invest in is a paintball marker guaranteed to work for beginners and intermediate players. It is totally affordable plus easy to customize and upgrade.
I think this is a perfect choice for those who are interested in scenario play and woodsball.
You may also decide to invest in its mega set, which is composed of the A-5 marker itself, and other valuable equipment and gears, including the mask with anti-fog lens, paintball harness, orange jerk squeegee, paintball clear tubes, 20-oz. CO2 tank, and black hopper.
What I really love about the Tippman A-5 is that just like the Tippmann 98 Custom, it works as a rapid-fire paintball marker utilizing the patented cyclone feed system, which is helpful in empowering more rapid shots by ensuring that the air system is connected to the feeder sprocket. It does not require an electronic loader, too, making it easier to load and shoot paintballs.
It is also long-lasting as it makes use of aluminum die-cast material for its receiver as well as a sturdy black finish, which is not prone to blemishes. It can minimize wear and tear and recoil with the aid of its shock-absorbent end cop. Furthermore, it boasts of its wide-mouthed hopper capable of holding up to 200 rounds.
It also guarantees a longer front grip, thanks to its enhanced ergonomics.
However, you have to remember that it is not the lightest paintball gun available on the market.
Pros
Affordable while being easy to upgrade and customize
Long-lasting, thanks to its aluminum die-cast construction
Guarantees rapid shots
Promotes ease when loading and shooting paintballs
Better ergonomics than the others
Overall, it is a highly efficient paintball gun for casual beginners as well as intermediate paintball players who would like to improve their gameplay further.
---
6. Spyder Victor
The Spyder Victor Paintball Gun is also one of the bestselling Spyder paintball guns today and there are numerous reasons for it. One thing you have to take note of about this bestselling product is that it also has its affordable 3Skull package set counterpart.
The set is reasonably priced and features a number of things aside from the entry-level paintball gun itself. These include the GXG XSVN mask, which comes equipped with an anti-fog lens and visor, a premium 2003d hopper, and a 200-oz CO2 tank. Expect the tank to have its own pin valve, too.
One thing I instantly find remarkable about the Spyder Victor is its excellent performance. I find it highly durable, too. It is light and compact. I think that it is all because of how it was designed as well as its all-aluminum body featuring a matte finish. You can operate it using compressed air or CO2.
I also noticed how impressive it is once I figured out that it lets users customize its features, including the shot's velocity. It guarantees a better and more comfortable grip considering the fact that it features a grip panel. It is also possible for you to control your shots because of its external velocity adjuster.
I am happy with the overall stability of this paintball gun, too. I think that it is stable because of its micro-ported, 10-inch barrel. Required cleaning and oiling for this paintball gun can also be completed in as little as five minutes.
However, the screws used in the gun are prone to getting loose after using it for a few games so you need to tighten them from time to time.
Pros
Highly durable all-aluminum body
Lightweight and compact
Allows you to operate it using either compressed air or CO2
Comes with customizable features
Promotes a more comfortable grip
Cons
Screws tend to loosen up with several uses
Still, it is an excellent investment and works well as a great entry-level paintball marker because of its lightness, sturdiness, and great performance.
---
7. Planet Eclipse Etha 2
Another paintball gun worthy of anyone's attention is the Planet Eclipse Etha 2. What I initially liked about it is that it is designed to be reliable, refined, robust, and feature-packed. I like its overall construction as I recognized how robust it is, making it capable of handling harsh environments.
No matter how harsh the paintball field is, it can handle it with the sturdy composite material used for its external construction as well as the tough aircraft-grade aluminum material used for its exteriors.
It is also easily maneuverable as it is not only lightweight but also well-balanced. I am also glad that it has minimal recoil as it works in facilitating a more accurate aim.
It is perfect for a wide range of users, including young and old players, as well as beginners and intermediate and advanced players looking for a paintball gun or marker in the mid-range category.
Another plus is the fact that it is built with a high level of accuracy. With that, rest assured that it lets you hit your aim or target even if you are far from it. I also find pleasure in the adequate grip spacing offered by the trigger because it lets me hold the marker in a more effective manner.
However, note that it has a higher air consumption. You can manage it, though, by using a few more pods.
Pros
Robust composite external construction
Easy to maneuver
Lightweight and well-balanced
Highly accurate
Adequate grip spacing provided in the trigger
With the many positive qualities and benefits of Planet Eclipse Etha 2, any paintball player will surely agree that it is a perfect addition to their paintball collection.
---
8. Empire Axe 2.0
If you want to prioritize smoothness of operation and a high level of accuracy then I think the newly improved Empire Axe 2.0 is perfect for you.
One great advantage I noticed about this option is that it is built and offered by Empire, which has already established an excellent reputation in terms of creating high-quality paintball markers.
With that in mind, it is also greatly possible for the Empire Axe 2.0 to deliver what it promises in terms of excellent performance and reliability. I think that one reason behind its highly removable and proven performance is the fact that it makes use of a poppet engine capable of controlling pressure.
It also comes with a 2-piece barrel known not only for its lightness but also for its high level of accuracy.
I am pleased to announce that it also lets you adjust its firing modes as its shockwave board is equipped with multiple firing modes that you can adjust. You can adjust it to semi-auto, full-auto, ramp, and burst.
One more thing that leaves a good impression on me is the fact that it delivers non-slip protection from elements considering the fact that it features a wrap-around foregrip. Maintaining it is also hassle-free because it does not need any tools. All it takes is for you to use the push button system utilized for the bolt removal.
However, you may need to spend on upgrades for the barrel to further enhance its overall performance.
Pros
Smooth operation and accuracy
Can control pressure with its poppet engine
Lightweight
Comes with adjustable firing modes
Offers a non-slip protection from the elements
Cons
Upgrades may still be necessary for the barrel
It is one of the bestselling paintball guns on Amazon, though, as it continues to showcase its reliability, quality, and excellent performance to its users.
---
9. Empire Paintball Axe Pro
Another reliable option for intermediate and professional players looking for a mid-range marker is this Empire Axe Pro.
Again, this is from a really reputable brand, Empire, which, I think, instantly shows how really good it is. It has a great design and ergonomics that promote ease in using it while making it powerful.
I also like the huge update made by Empire in this paintball gun as it now comes with a better waterproofing ability as well as an improved functioning trigger.
Another valuable advantage of this paintball gun is that it boasts of a better fitting grip. It has an extended grip, promoting ease and comfort when holding it even for a long period.
You can also easily hold it even if you are shooting, diving behind barricades, or running. Another major plus of this product is that it has an easy to adjust bolt. It is a remarkable thing as it ensures that you can easily clean it up, thereby extending its life and making it more fun to use.
It has a strong, durable, and solid frame, too, which is guaranteed to last for a long time despite tough use. Furthermore, it works quietly so you can slip around the battlefield without anyone noticing.
One problem, though, is that it is slightly heavy as it has a weight of over 5 lbs.
Pros
Great design and ergonomics
Waterproof and comes with a fully functional trigger
Promotes a better fit on the grip
Easy to clean up due to its adjustable bolt
Built with a strong and solid frame
Despite being heavy, Empire Paintball Axe Pro Gun more than makes up for it with its power, strength, accuracy, and efficiency.
---
Sniper Paintball Guns
If you are looking for the best paintball sniper rifle then these options will surely give you the satisfaction you need. They are mainly designed in such a way that you can effectively perform your role as a designated marksman or sniper, especially if you are playing the scenario game.
Paintball Pistols
If you want to further improve your gameplay then investing in the best paintball pistols should also be on top of your priorities. Note that a paintball pistol is quite different from the large-sized paintball markers but it's a great backup in case your barrel gets jammed.
---
What To Look For When Buying A Paintball Marker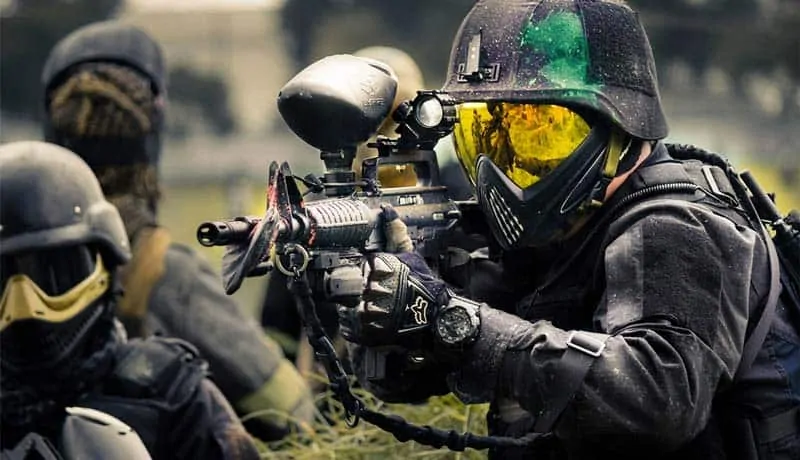 ---
Anyone who is unfamiliar with the ins and outs of paintball might think that choosing the best paintball marker is an easy task. The truth, however, is that the whole process can get tough, especially if you are unsure of what you are looking for.
Allow us to simplify the whole journey of selecting from the best paintball guns by enlightening you about the different factors that should greatly contribute to your final decision:
Where You Should Buy The Product
One aspect that you have to look into carefully is the specific place where you should buy paintball guns from. You do not want to end up getting too excited about a particular deal only to find out that its promise, which seems too good to be true, can't be delivered.
You do not want to invest in a marker that is not actually as good as you initially thought. One thing you have to do, therefore, is to find trustworthy sellers and brands of this product. If possible, buy it from a trustworthy and reputable sporting goods website.
Also, ensure that you spend time carefully reading reviews when planning to check out paintball markers from online marketplaces, like Amazon and Discount Paintball. Read through all the paintball gun reviews and research about the product. That way, you can use your best judgment and find the perfect place to look for a paintball marker.
How Frequent Will You Be Using It
Finding the most accurate paintball gun designed to fit your specific needs is also possible if you consider how much and how frequently you are planning to play the game. One thing you have to take note of is that a basic yet complete setup costs around $70-$120.
The cost does not involve the plastic pumps yet, though. You can also find stores renting out complete sets, including hopper, tank, mask, and gun. You can rent the set for around $10-$20 daily. If you think that you will only be using the gun once or two times annually then it would be ideal for you to just rent.
However, if you are planning to use it at least 3-4 times yearly then you can greatly benefit from having your own set. Investing in your own set is more cost-effective, especially if you think that you will be using the paintball marker more frequently.
Customizable Feature
You may also want to check whether the paintball guns you are aiming to invest in has a customizable feature. Note that various advanced players also have different preferences in terms of the gun they are using. Because of this, it would be best for you to look for a highly customizable paintball gun.
With that feature, it is easy for you to customize it in such a way that it can adapt to various scenarios that might occur all throughout the game. The gun should also come with different firing modes. Such offers more versatility once you start to play whether you want to save your paintball or just simply prefer accuracy over volume shots.
Ease Of Disassembly
It is also advisable to check whether or not the gun is easy to disassemble. Note that just like other types of guns, this product also has the tendency of getting jammed from time to time. When dealing with that scenario, you might need to use a tool to ensure that it works again.
Fortunately, you can now also find the newest paintball guns that promote ease of disassembling even without the use of any tools.
Weight
The weight of the paintball marker should also have a say in your final buying decision. It is because such a factor plays a crucial role in how the product will perform on the field. A heavy gun causes difficulty when carrying it around on the field.
With that in mind, consider looking for a marker with a really lightweight design. That way, you will experience utmost comfort when you are already using it. It is even possible for you to find a paintball gun, which is only around 3 lbs. if you do an extensive search.
Material
Check the material used in creating the paintball guns, too. Note that the specific material used in creating the gun's barrel can greatly affect its weight as well as how accurate its shot will be. Take note that various materials also offer a wide range of benefits based on your chosen style.
One of the most common materials you can find in guns is aluminum. What's good about guns featuring aluminum-based barrels is that they are completely affordable, which is why most of those looking for the best paintball guns for beginners choose any of them.
Another option is the carbon fiber material. What's beneficial about this material is that it is not only durable and lightweight but is also easy to clean and maintain. You can also smooth it down in the sense that it has almost zero friction, which is the key to retaining more of its speed.
Overall Design
When deciding on the perfect design for your paintball marker, it is crucial to think of the specific places you play the game frequently. It is also a must to consider the field's settings. Avoid choosing a gun with a design that causes it to stand out unless you play in a really dark field.
Also, note that bright colors may also cause problems as it will be easy to spot them in the field. This color increases your risk of getting noticed while you are in the field, causing you to get shot often. If possible, choose calmer and darker colors for the gun.
Price
Lastly, consider the prices of your options before buying. Remember that you will also need to buy other items aside from just the marker. Some of the other pieces of equipment that you have to invest in are the padding, belt pods, tanks, mask, and any other add-ons.
Paintball Guns under $200
If you are looking for the most inexpensive paintball gun you can find then a basic package is ideal for you.
This often costs around $30 to $50 and includes a gun made of plastic, a hopper, a mask, and a couple of 12-gram carbon dioxide canisters. You may also choose to buy an entry-level electro-mechanical or semi-automatic paintball gun, which usually costs $70 to $100.
Learn more about the best paintball guns under $200 here. These options are cheap but good for getting started on your paintballing journey.
Paintball Guns under $300
If you have a bit more budget to spare, then consider one of the best paintball guns under $300. These paintball markers will offer more quality than what you'll find at the lower end of the market.
Premium Setups
If you wish to invest in a high-end professional gun set-up, then be willing to spend more. In this case, expect to spend up to $2,000, sometimes more, for the high-end gun as well as the premium gear and accessories that come with it.
Marker Types: Which Is The Best One For You?
---
It is also a must to get to know more about the different types of paintball markers that are available for you. Study the merits of each one so you can better decide which one among them is really suitable and appropriate for your requirements. In this case, you have to get to know more about mechanical and electronic markers.
Mechanical Markers
Pump paintball guns designed to be operated mechanically can be expected to work through mechanical means only. This means that you can't expect them to utilize electro-pneumatic solenoids that are often regulated with the help of an electronic board when it comes to firing more than a single shot.
If you are looking for a mechanically-operated marker then note that some of your options are the semi-automatic mechanical types that are also referred to as blowback guns. It is possible for them to start firing once you pull the trigger and it releases a bolt propelled forward with the aid of a spring.
You will also find it easy to use and set up even if you do not have any paintball experience in the past. One problem associated with the use of pump paintball guns, however, is that it is not as accurate, consistent, or fast as the electronic type.
Electronic Marker
As the name suggests, electronic paintball guns, which are also referred to as electro-pneumatic guns, make use of circuit boards powered by batteries as a means of firing many paintballs per second. These circuit boards are designed in such a way that they activate solenoids, causing the gun to start firing.
Each time you pull the trigger, the circuit boards receive a signal that it is time to fire, thereby activating the paintball marker. What's good about the built-in circuit boards is that they are programmable in nature. That said, it is possible for you to send a signal to the board, telling it to fire automatically.
You can find the best automatic markers right here for rapid-fire action.
One major advantage of the electronic marker is that it is capable of firing in a faster and more accurate and consistent manner than the mechanical paintball gun. You can also expect it to be small and lightweight, thereby ensuring that you will never have a difficult time using and managing it.
It also has a light and short trigger pull considering the fact that it is only the trigger, which is used in activating the circuit board. There is no need for you to activate the firing mechanism in a physical manner.
Beginner Paintball Guns
If you are still a beginner in the field of paintball then you may want to go for an option that is easy to use so you wouldn't have a hard time familiarizing yourself with how it works. In addition, it should be tough and durable so it can continue serving its purpose for a long time.
Some of the products that meet the criteria of being easy to use, tough, and durable. They are the best beginner paintball guns and come in a kit, giving you the option to buy a complete starter set or package that you can use even after you get more familiar with the game.
Choosing a Marker Based on your Gameplay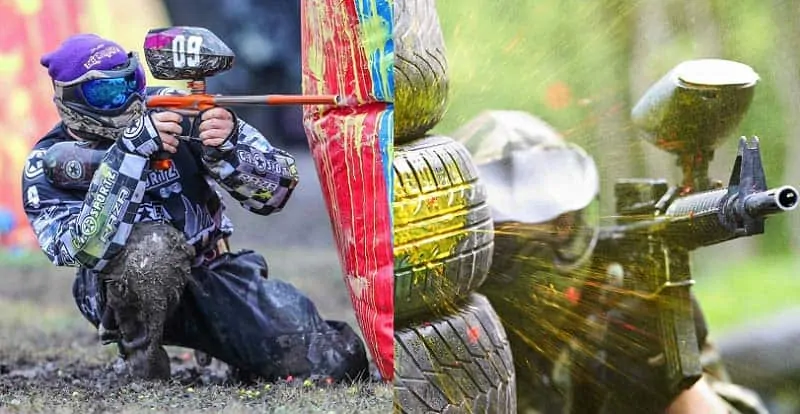 ---
The game of paintball actually comes with various rules and variations on how to play it with each one being specified and indicated prior to starting the entire game. A basic rule used in any playing style game is for players to complete a specific goal but they have to make sure that they are not shot nor marked by a paintball.
Other variations of the game that you can also use in deciding the ideal paintball marker for you are as follows:
Woodsball
If you are looking for a paintball gun for woodsball then you have to familiarize yourself with how this particular variation of the game works. That way, you will know exactly how you can use your chosen marker. It should be noted that paintball began as a recreational game taking place in a wooded area.
The most common format used in this recreational game involves capturing the flag and eliminating players. If you are interested in learning the ins and outs of the woodsball playing style then take note that it can accommodate different players with various bunker types.
Speedball
Another paintball variation that you have to take note of is the speedball. This game is usually played in a small field full of bunkers. The field where players play speedball is often less than a football field's half size. You can also usually see it in treeless and level terrain.
Another thing to take note of is that the speedball field makes use of manmade bunkers. They started as crated and wooden spools and evolved into corrugated sewer piping. Nowadays, you can also see them coming into the form of custom-made inflatable obstacles that come in different shapes and sizes.
One more thing to note is the fact that the fields where paintball is often played also usually hold speedball tournaments all throughout the year. If you are interested to be part of it then make it a point to invest in the best speedball gun that you can use for it.
Scenario
Another variation relevant to paintball that you should familiarize yourself with is the scenario paintball. In this specific variation, expect a certain story or theme to be added to it. The themes and stories added differ significantly. These include holiday and famous movie themes.
A popular theme involves recreating historical battles. The basic rule involved in scenario paintball is to let the participating teams or players pretend to be someone or something other than being the players of the game. Most of these games are also involved in huge events.
Military Simulation (MilSim)
Another famous paintball variation for all skill levels is military simulation. Paintball has this specific variation considering the fact that the entire game actually has several similarities with the drills used by the military when they are still training their recruits.
In fact, there are times when the military utilizes the game of paintball as a means of preparing their soldiers for an upcoming battle. This is the main reason why you can find several paintball facilities that created courses based on the style used by the military.
One thing that makes MilSim games distinctive from other paintball various is the fact that it often comes with warlike themes. You can even see players using guns that really look like the real thing. Some players even go to the extent of using 2-way radios or dressing up using authentic costumes. The whole game also involves strategic plans.
Concept Field
Paintball also makes use of concept fields that often require the set-up of objects, letting players stay hidden from the opposing team. What's good about playing in this field is that it lets you enjoy a perfect man-made field designed for the game.
A paintball field using the concept style is often created outdoors. It also often comes with a theme. If the concept is urban then expect the field to be full of buildings, cars, as well as other items commonly seen in the city.
Some creators of the concept field, however, tend to apply more creativity by putting extraordinary themes, especially to those who are still unfamiliar with paintball.
Other Equipment And Items Needed For Paintball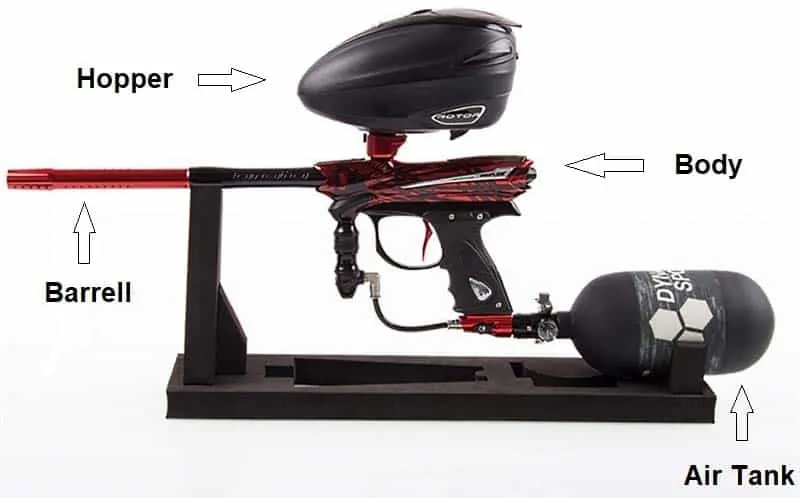 Aside from the paintball gun itself, the game also requires you to invest in other equipment and accessories that are necessary for ensuring that you will have a great experience once you start playing.
You'll want to know exactly what to wear before hitting the field.
Here are just some of the items and equipment that you need for paintball:
Mask
Your mask is always a vital piece of equipment in the game of paintball. This is because it is a big help in offering the utmost protection to your face. Remember that a flying paintball has the tendency of leaving bruises on your body in case it hits you.
It might also blind you in case it directly hits your eye. Because of that, it is crucial to invest in a paintball-approved mask and use it throughout the game.
Remember that finding one of the best paintball masks is the key to protecting your eyesight and your entire face.
Paintballs
Together with your chosen paintball gun, paintballs are also the primary components that make it possible for you to play the game. You can expect these to come in spherical containers of paint that you need to use to load your gun. You can then shot it based on your chosen propellant.
You can find different colors and brands of paintballs. In most cases, the more expensive ones are considered by many as better paintballs in terms of performance. However, beginners might think that the balls perform almost the same provided you pick those that are not yet too old. Pick the best paintballs that look good and are easy to use.
Barrel
The barrel is a vital component because it works in directing the paintball and controlling the release of the gas pocket, which you can find behind it. It even contributes to the accuracy, speed, and distance through which the paintball travels, making it a vital element of the marker.
The majority of top-rated paintball guns with modern designs that you can find today make use of barrels that you can see being screwed to the front part of the receiver. Another thing that you have to take note of about the best paintball barrels is that they make use of threads that perfectly match the paintball gun.
Among the most commonly used threads, in this case, are the auto-cocker, angel, shocker, 98 custom, impulse or ion, and the A-5. Another important factor that you have to consider, as far as the barrel is concerned, is its length. Typically, its length is around 76 to 530 millimeters.
Hopper
This vital equipment in the game of paintball actually refers to a small container, which you can find sitting on the paintball marker or gun. It is useful in feeding the balls to your gun and controlling the firing rate per second.
Remember that the paintballs have to reach the gun's chamber prior to allowing you to shoot them. One way for you to ensure that this happens is with the help of the best paintball hoppers.
Air Tank
Another essential paintball equipment is the air tank. Remember that firing a paintball requires a propellant, which is derived from a compressed gas. This often comes in the form of compressed CO2 or compressed air gas system and filled with the help of a pressure gauge.
In most cases, your marker will need any of the two forms of air tanks holding the compressed gas – the smaller 12-gram tank, which is also used as a BB gun, or the larger tank, which screws into the best paintball gun.
If possible, go for a bigger compressed air tank as it also means that it is capable of shooting hundreds of balls, which is why you should stick with one of the most proven and best paintball tanks.
Pods & Pod Packs
You also need paintball pods & pod packs to ensure that you have a smooth experience when playing paintball. Pods actually refer to plastic containers that often feature flip-open lids. These containers are helpful in storing the paintballs in such a way that you can readily use them.
What's good about pods is that you can see them being available in numerous sizes. The largest one is the 140-round pod, which is commonly used by tournament players. You can carry these pods with the aid of a pod harness or pack. With this pack, accessing the pods during the game will be much easier.
Frequently Asked Questions (FAQs)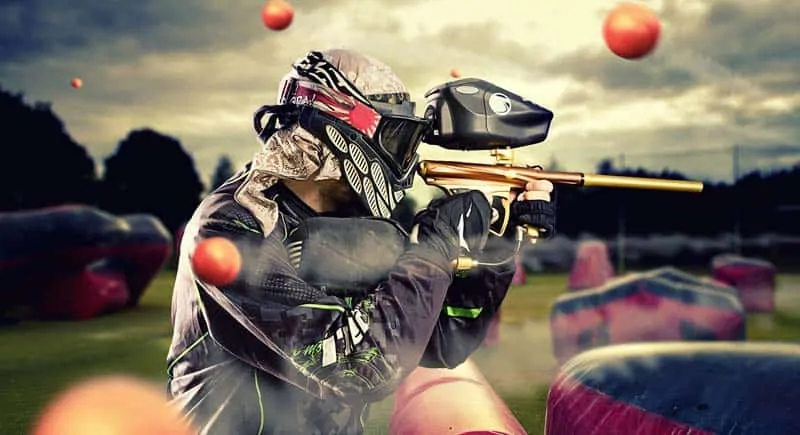 ---
How does a paintball gun work?
Paintball guns actually differ in the way they work depending on the brand, type, or model you have chosen to buy. Basically, though, it works once a short and well-controlled burst of gas is released from a tank or canister using compressed gas, causing the paintballs to be expelled coming from a barrel.
It is crucial to note that the firing assembly varies from one paintball gun to another. Generally, though, it has a gas valve sealed against your chosen gas' constant release while allowing the bolt to propel forward.
How to set up a paintball gun?
Basically, the whole process of setting up a gun involves installing the barrel. The first step is to remove the hopper from the gun and ensuring that no paintballs can be found inside the marker.
Screw in the barrel clockwise using an Allen wrench to loosen a couple of screws you can find below and above the barrel.
How to improve the accuracy of your marker?
Improving the accuracy of your gun is as simple as ensuring that it stays clean. It is because piled-up dirt on the marker can hamper its precision, even if you buy the most accurate paintball gun. This does not just involve regular cleaning, though. You also have to make sure that you inspect the whole marker.
How to aim/shoot a Paintball Gun?
In paintball, your aim is essential, especially in those instances when your goal is to target an opposing paintball player. When aiming or shooting the gun, avoid closing one eye because it might have a major effect on your peripheral vision, making you prone to get attacked by a hiding enemy.
What you have to do, instead, is to hold your gun and position it below eye level, allowing you to see over its barrel with your two eyes. This increases your chances of making an excellent aim. In case you are dealing with a moving target, one way to handle it is to aim the paintball in the specific direction where the target is running.
How to fix a paintball gun?
The process of fixing a paintball gun differs based on the problem it is currently facing. In case of leaks, you have to check where these are coming from to give them the right fix.
If air leaks in the area surrounding the ASA (air source adapter) fitting, for instance, then it might be caused by a damaged O-ring.
If the problem of the paintball gun is that it does not seem to recock then you have to look for the actual source of the problem. One of the most common causes of its failure to recock is an empty air tank.
How to clean a paintball gun?
Cleaning a paintball marker is essential for maintaining its excellent condition. Note that the buildup of dirt might cause it to jam or produce less accurate shots when you are firing it. It is even possible for the paintballs to break within the barrel. The first step in cleaning it is to disassemble it so you can really access all its parts.
How fast/far can a paintball gun shoot?
The speed and distance through which a gun can shoot can be measured in fps, which stands for feet per second. The average speed and distance it can shoot is around 300 fps and below. The majority of paintball fields require players to use paintball guns with a max of 280 fps to guarantee safety.
How bad does a paintball gun hurt?
If you are worried that getting shot by a paintball will hurt you badly then it is time to let go of such worries and fear. It does not hurt as badly as you think so do not let your fear of getting hit and experiencing paint prevent you from trying out this exciting game.
While it is true that a hit or shot from this gun on a sensitive body part or bare skin at a direct angle, close range, and high speed hurts a bit, this is not always the case when you are playing the game.
How much does the best paintball gun cost?
Paintball guns range from $30 to over $1,000 depending on their brand and characteristics.
If you are still a beginner then expect to find real value for the money you spent even if you just go for an inexpensive choice. Once you get more involved in the sport, though, expect to pay more. The cost of a marker alone is only part of how much it costs to go paintballing.
What are good paintball marker brands?
Among the most popular and trustworthy paintball brands that you should check out are Planet Eclipse, Dye, Tippmann, Spyder, Empire, and Kingman. These companies are reputable and reliable manufacturers.
As you can see above, Tippmann paintball markers dominate the list of bestsellers to choose from.
Conclusion
Finding the best paintball gun does not have to be an extremely overwhelming process even if you are still a beginner in this industry and you get confused with all the choices laid out for you. By just absorbing everything that this article informed you, you have a higher chance of picking the most reliable paintball gun in the world.
Last Updated on December 10, 2023